In its initial reaction to Government plans for safety improvements for people walking and cycling, an alliance of the leading walking and cycling organisations indicated its support for proposed amendments to the Highway Code.
These proposals were made as part of 50 recommendations published by the Department for Transport in response to their Cycling and Walking Safety Review conducted in March.
Made up of the Bicycle Association, Cycling UK, The Ramblers, British Cycling, Living Streets and Sustrans, the organisations welcomed the suggestions which will look into providing priority for cyclists and walkers at junctions, clearer guidance on vehicles overtaking cyclists and also guidance on the "Dutch reach".
British Cycling Policy Adviser Chris Boardman said:
"This action plan could represent a turning point in how we use UK streets. Measures such as devolving power to councils to tackle dangerous parking will give us, in Greater Manchester, the opportunity to proactively address bad behaviour.
"Similarly, giving the police both targeted funding and political support to use video evidence much more frequently to prosecute those that endanger the lives of vulnerable road users will help ensure that there are real consequences for many more dangerous drivers.
Boardman, who is also Greater Manchester's Cycling and Walking Commissioner, added:
"But perhaps the real game changers are yet to come. A stated intent to look into presumed liability is a big step. Reviews are traditionally a way to not take action, however in this case I believe there is genuine intent to get a significant proposal onto the table. We in Greater Manchester will do all we can to help provide evidence that will support the Government with this ambition.
"The overall impression from this report is that Jesse Norman is working hard to improve our environment, to make roads more appealing for those who want to be able to travel without cars. What is also clear is that his government colleagues need give him much more support to implement changes that will ultimately benefit all of us."
British Cycling Policy Manager, Nick Chamberlin, said:
"The sheer number of responses to the Department for Transport's Cycle Safety Review speaks volumes about the urgent need to address the hostile and often perilous nature of our roads for people on bikes.
"While cycling continues to be very safe statistically, the left hooks, close passes and car dooring – which largely go unreported – all contribute to a perception of danger which deters people from taking the plunge and leaving the car at home.
"The mooted changes to the Highway Code proposed in the 50-point plan are important steps towards combatting this problem. Combine them with better education for drivers and more stringent enforcement, and they have the potential to be the catalyst for a real sea-change in the way that people on bikes, foot and horseback are welcomed and respected on our roads."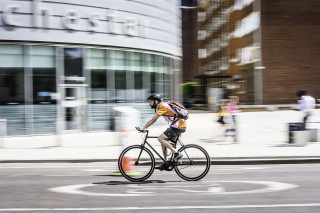 There was disappointment among the group however that the Department for Transport's plan to improve the safety of vulnerable road users did not place more emphasis on speed reduction.
"Lowering vehicle speeds around people walking, cycling and horse riding doesn't just reduce the danger to them, but also their perception of the danger," said Cycling UK CEO Paul Tuohy. "While the DfT's proposals for amendments to the Highway Code will help save lives, ignoring the threat and dangers of speeding is disappointing."
The alliance believes increasing road safety and reducing the perception of danger are crucial parts in the promotion of active travel, and says these need support across Government beyond the Department for Transport.
Mr Tuohy said:
"If we want more people cycling and walking in England, and enjoy the consequential health, environmental and economic benefits, it's clear the Department for Transport needs support from across Whitehall. Other departments – health, justice, local communities and government all need to start mucking in and working with the DfT.
"Every department will share in the benefits of more people cycling and walking, so it's only right that they should actively support the DfT, financially and administratively, to help to make this happen."
Joe Irvin, Chief Executive, Living Streets said:
"Too often people walking pay the ultimate price on our roads. This is unacceptable and we need opportunities like this to make our roads safer.
"Looking to improve the Highway Code for walking and cycling, and appointing a cycling and walking champion can help make our streets safer for everyone.
"Lower speed limits in urban areas, more time to cross at light-controlled crossings, better street maintenance and constraints on pavement parking can all help encourage people to choose these cleaner and healthier ways to travel."
The Walking and Cycling Alliance is a coalition of the UK's leading walking and cycling organisations of the Bicycle Association, Cycling UK, the Ramblers, British Cycling, Living Streets and Sustrans.
The alliance is calling for Government to bring about five changes to make our roads safer for pedestrians and people on bikes:
Safety: revise the Highway Code to improve safety for people walking and cycling, particularly at junctions.
Speed: reduce default speed limits to 20 mph for most roads in built-up areas and 40 mph for most minor rural roads;
Space: adopt and ensure consistent application of existing 'best-in-class' infrastructure design standards;
Priority: prohibit pavement parking to create safer and more accessible streets;
Culture: provide cycle training for all primary and secondary school children, and embed a culture of walking and cycling throughout the school curriculum
Find out more about the cycling and walking alliance here.