British Cycling's Choose Cycling Network has set its sights on securing meaningful investment and strong political leadership following a first year which has seen it amass over 40 member companies representing more than half a million employees.
The Network, formed in March 2015, has expanded rapidly in the last twelve months and now includes some of Britain's biggest companies, all of whom believe that more cycling would be good for their workforce and customers.
The likes of Tesco, the AA, Coca-Cola, Aldi, Santander, National Grid and Virgin Trains have all contributed to notable successes over the past year, but member companies are keen to ensure that this progress is maintained and built upon.
Martin Key, British Cycling's campaigns manager, said: "The expansion of the Network and the support we have received from some of this country's biggest and most influential companies have been great to see.
"Politicians and decision makers have been forced to sit up and take notice; both Prime Minister David Cameron and Chancellor George Osborne have responded to correspondence from the Network outlining support for our aims.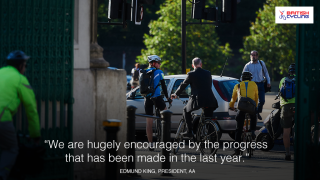 "Mr Osborne called it 'enormously helpful' to get a business-led perspective on cycling, and confirmed that the government recognised the numerous 'benefits that result from investment in cycling'.
"However, the proof of this will be in the delivery of meaningful, sustained investment in cycling, and the Network will continue campaigning for this on behalf of employees, customers and members throughout the country.
"The Network has a busy year ahead, pressing for the delivery of a meaningful government investment strategy and showing how businesses can make a big difference in making it easy for their employees to cycle to work."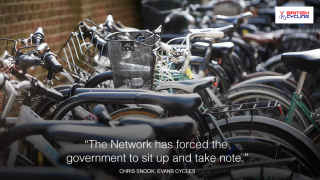 Founder members
The AA was one of the Network's founder members, and their president Edmund King added: "We were delighted to commit our support to the #ChooseCycling Network early on, and we are hugely encouraged by the progress that has been made in the last year.
"The benefits of an increase in cycling in this country – for cyclists and motorists alike – are well documented, and we will continue to play an active part in the Network to ensure that people have safe places to cycle and this increase is realised."
Simarjeet Kaur, head of responsible business at Virgin Trains, said: "Virgin Trains is pleased to see the Choose Cycling Network celebrating its first birthday. We're proud to be a part of the network and have thoroughly enjoyed supporting its initiatives, especially as we're committed to encouraging our customers to integrate cycling into their journey.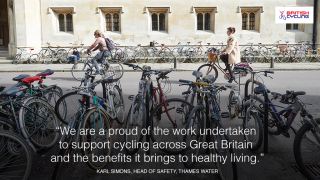 "We're excited to see what the network can achieve in the near future. Here's to the next year and getting many more people on their bikes."
Neil Pullen, safety director at the National Grid, said: "Having been members of the #ChooseCycling Network since day one, it is fantastic to see the way it has grown and the influence it now has.
"While significant progress has been made, we also recognise that we still have plenty of work to do in creating a culture in which everyone feels safe to cycle, and in which the benefits of increased sustainable transport can be felt by all.
"We look forward to continuing to work with British Cycling and other members of the Network to make this aim a reality."
Following last November's Comprehensive Spending Review, British Cycling's policy adviser, Chris Boardman, stated that the Department for Transport has "everything it needs" to deliver. The onus is now on the DfT to allocate the funds to deliver a credible Cycling and Walking Investment Strategy – the first legal obligation to provide for cycling.