#ChooseCycling Network members, including Santander, National Grid and Halfords have called for decisive action to make cycling to work an option for employees and customers.
Attending the launch of Bike Week 2015 which included the Parliamentary Bike Ride - an annual jaunt from the Dutch Embassy to the Palace of Westminster for MPs and cycling campaigners - Network members pressed the minister, Robert Goodwill MP, on his plan of action for cycling.
In particular, Network members joined British Cycling's call that Mr Goodwill put the Cycling and Walking Investment Strategy - required by the Infrastructure Act passed earlier this year - before the House of Commons ahead of the summer recess.
This morning's developments followed a letter from Chris Boardman on behalf of the Network to party leaders ahead of the General Election. The Prime Minister responded with a string of commitments underpinned by a pledge in the Conservative manifesto to double levels of cycling by 2025.
In a speech at the Dutch Embassy ahead of today's ride, Mr Goodwill reiterated these commitments and made clear his view that cycling is moving in the right direction.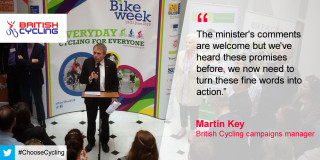 "The last government inherited spending on cycling of £2 per person per year. By the end of the last Parliament we had increased that to £6 - now we need to get to £10," Goodwill said.
Ian Austin, co-chair of the All Party Parliamentary Cycling Group, welcomed these commitments but called for the government to do more.
"If ministers are serious about upping spending to £10 per person per year, they'll have my support," Austin said.
"But this is about more than money - we need cycling to be factored into infrastructure decisions.
"Cycling is booming in Britain but the biggest barrier to more people cycling is concern about safety. We need our roads and junctions to be safe for everyone and the APPG will continue to campaign for this in parliament."
Martin Key, campaigns manager at British Cycling, welcomed recent progress but warned that the government is still a long way from the 'cycling revolution' promised by the Prime Minister.
"The minister's comments are welcome but we've heard these promises before, we now need to turn these fine words into action.
"He has the power to fulfil the Cycling and Walking Investment Strategy. This would be an important first step for the government ahead of summer recess and the allocation of future transport budgets."
The #ChooseCycling Network has given leading businesses an opportunity to join calls for a step-change on how government invests in cycling to meet challenges on public health, pollution and productivity.
Bike Week 2015 - Delivered by CTC, the national cycling charity, as part of the European Union Intelligent Energy Programme.
Funding from Bike Hub, Cycling Scotland and Travel Wise Northern Ireland. In partnership with Cyclescheme and Love to Ride. Supported by the Dutch Embassy, British Cycling, London Cycling Campaign, Sustrans, ACT and CycleNation.