Harry Ledingham-Horn rode to glory in the men's sprint to secure his first individual national title on the second night of the National Track Championships in the Geraint Thomas National Velodrome of Wales.
Ledingham-Horn was crowned British champion alongside fellow sprinters Emma Finucane and Joe Holt in the women's keirin and men's kilo events, while the endurance side saw national titles for Fin Graham, Archie Atkinson, Daphne Schrager, Will Perrett, Jess Roberts, Sophie Unwin and Jenny Holl, and Team Inspired in the women's team pursuit.
Men's sprint
Harry Ledingham-Horn was crowned the men's sprint national champion after showing a powerful display of strength against Olympic medallist Jack Carlin.
Carlin looked to be the most dominant coming in, qualifying the fastest with a time of 9.993 – the only rider to dip under 10 seconds – as Ledingham-Horn qualified second with 10.127.
Carlin and Ledingham-Horn both eased through their heats to get to the semis, where Carlin faced Matt Rotherham (ESV Manchester), and Ledingham-Horn took on Lyall Craig (Glasgow Track Racing Team).
Craig put out an incredible performance as the top amateur of the day, but it was Ledingham-Horn that went to the gold final in straight rides – as did Carlin against Rotherham.
Rotherham went on to beat Craig in straight rides to secure the bronze medal. Carlin took the first win in the gold ride off with Ledingham-Horn hot on his tail, and the 19-year-old brought it back to take the victory in the second heat, letting out a roar as he crossed the line.
Going into the third and final decider, Carlin led the sprint out and put down an incredible amount of power, leaving Ledingham-Horn to chase. The Scotsman looked like he had it in the bag, but Ledingham-Horn fought into the final bend and closed the gap to take it straight to the line.
A photo finish decided Ledingham-Horn as the winner, securing his second national title of the week after yesterday's team sprint.
Speaking after the win, he said: "It feels unreal. It was a super close final with Jack. Obviously I lost the first ride but it gave me a bit of confidence actually as going into it against Jack, I'd thought 'no chance' so the fact I was close in the first ride made me carry a bit of confidence into the next race. I was hoping at very best for a podium so to come away with this is just amazing."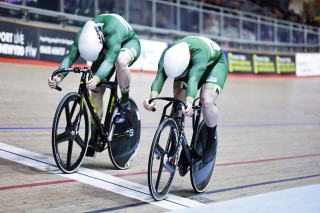 Women's scratch race
Jess Roberts was crowned the women's scratch race national champion after a three-up attack caught the peloton by surprise.
Neah Evans dragged the race out from the front early on, and got away with Sophie Lewis as the peloton splintered behind.
Lewis and Evans worked together before Evans rode away with 24 laps to go. Grace Lister managed to bridge across, passing Lewis, to get on Evans' wheel.
Roberts showed pure power to ride away from the peloton and join Evans and Lister as the trio led from the front with 17 laps to go.
Kate Richardson and Eilidh Shaw attempted to close the gap before the peloton reeled them back and the chase continued.
The front three lapped the peloton and re-joined the group with six laps remaining. Richardson attacked with just three laps to go, but Evans was straight on her wheel. Coming into the final lap, Evans and Roberts battled for the line, with Roberts just edging the win in an incredible sprint finish. Evans took silver, while Lister got the bronze.
Speaking after the win, Roberts said: "I'm really happy. Last year was a building phase for me so to start the year off with this has given me some confidence going into the season. It was a good race. Neah took it on and it made it so exciting. I just gave it my all in that sprint and just managed to pip her! My family are so supportive so it's really nice to have done it here in Newport too."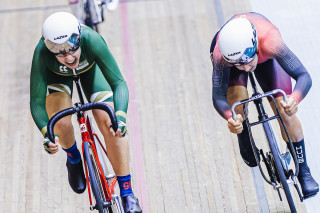 Para pursuit C1-5
World champion Fin Graham (Para-T) was unstoppable in the men's C1-3 pursuit, crossing the line in 3:25.128 to break the national record and retain his title for another year. Ryan Taylor (Ilkeston CC) took second, five seconds behind, while Ben Hetherington (WattShop) came in third on 3:43.505.
Graham said: "It's amazing to get another national title and race in the world championship kit too. It's always special to win a national championships and gives me a lot of confidence ahead of the rest of the season. I didn't really know where my form was at – the last time I did a pursuit was Track Worlds – so it gives me a lot of confidence to have broken the national record, especially with a home World Championships in Glasgow later this year."
In the men's C4-5 category, Archie Atkinson (Para-T) secured the gold in a time of 4:38.815 ahead of Will Bjergfelt (05/03) on 4:41.936. Martin Hailstone (Addform-Vive-le-Velo) took the bronze in 5:07.244.
Daphne Schrager (Di MASCIO) won the women's C1-5 pursuit after an incredible ride, clocking 3:43.282 over the three-kilometre event. Morgan Newberry (Loughborough Lightning) finished in second on 3:57.492.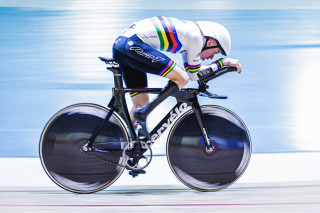 Women's keirin race
A tight photo finish saw Emma Finucane take her second title of the championships in the women's keirin, while Katy Marchant came second to gain her first national medal since the birth of her son, Arthur.
Finucane is yet to lose a race at this year's championships after storming to the victory in yesterday's sprint, and taking wins in every race of the keirin.
The first round of the heats predicted the podium places as Finucane, Marchant, and Sophie Capewell all took wins in their opening races.
Well fought semi-finals saw Finucane, Capewell, Marchant, Lauren Bell, Milly Tanner and Lowri Thomas make it through to the final, showing the green Team Inspired kit out in full force.
In the fight for gold, Finucane drew fifth in the line up and patiently followed wheels, saving energy before launching the ultimate attack with a lap and a half to go. Finucane found the black line into the last half lap, and stormed to another victory on her home track in Newport ahead of Marchant.
Finucane said: "I really wasn't expecting that! I came in to today a bit tired after yesterday as it was such a long day in the sprint. My legs didn't feel great in the final but I just stuck to my process and I feel like I nailed it. I just gave it everything, black line, head down, and to come away with another national title is amazing – I can't believe it!"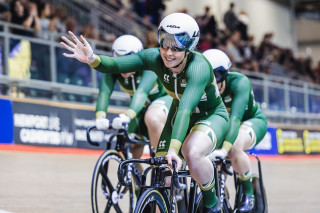 Men's points race
Will Perrett won the men's points race in style, lapping the field on three occasions to gain maximum points and secure the national title.
The 120-lap race stayed together until an attack from Callum Twelves, Josh Charlton and Jack Brough went off the front with 68 laps left, lapping the field to secure 20 points each and put Charlton in the lead on 25 points.
From there, little surges off the front forced the race to splinter, but no attack came to fruition, until Perrett showed his strength with a solo attack with 48 laps remaining.
Perrett was like a steam train, and caught the bunch again with ease, putting him in the lead ahead of Charlton on 33 points.
Kieran Riley, Jack Rootkin Gray, Will Tidball and Finlay Tarling rode away from the group with 38 laps to go, before Perrett went again five laps later and caught them. Perrett rode away with Tidball and Tarling, working together until Tarling was dropped.
Perrett and Tidball continued to steam ahead, while back in the peloton Ben Wiggins and Will Roberts attacked in an attempt to catch them with 21 laps remaining.
Perrett and Tidball quickly made the catch with 19 laps to go, and put Perrett on 60 points – head and shoulders above the rest of the field – whilst Tidball sat in second on 40 points and Charlton still in third.
Wiggins and Roberts were reeled back in to the bunch with nine laps to go, while Rootkin-Gray and Perrett attacked again with just seven laps left. Perrett proved too strong and dropped him after two laps, and caught the group again to take him up to 80 points.
A fight for the sprint finish saw Rootkin-Gray cross the line first, but it wasn't enough to make a dent in the standings as Perrett took gold, Tidball claimed the silver, and Charlton finished on the bronze.
Speaking after the race, Perrett said: "It's pretty amazing and really special to actually win a national jersey. I enjoy the national titles more than most I think because I've come from winning Derby Track League and winning university medals. I used to see the guys winning the national titles as amazing so for me to go through the steps and win a national title myself is really nice."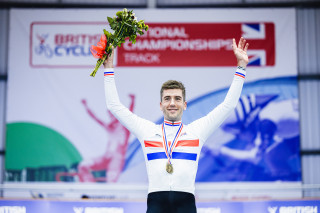 Para pursuit tandem
Paralympic bronze medallists Sophie Unwin and Jenny Holl were crowned the women's para pursuit tandem champions, finishing in 3:32.129. Lizzie Jordan and Amy Cole took the silver with a time of 3:45.764.
In the men's event, Chris McDonald and Adam Duggleby dominated to take the gold in 4:20.179, while Harry Latimer and Christopher Wilkins won the silver. Thomas Wing and Joshua Dunham came in third, adding another medal to their collection after their national title in the sprint yesterday.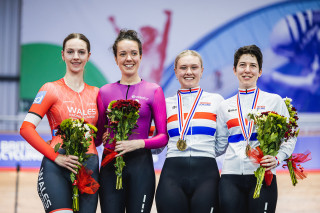 Men's kilometre
Joe Holt (Tekkerz CC) stormed to gold in the men's kilo event, finishing over a second quicker than second place.
Welsh rider Holt finished in a time of 1:02.402 in front of a roaring home crowd to get the fastest time of the day, while Calum Moir (Zappi Junior RT) finished second on 1:03.713 to take the silver.
Tom Ward (Ward WheelZ) clocked 1:04.006 to take the bronze by a whisper ahead of last year's bronze medallist Harvey McNaughton (Wales Racing Academy).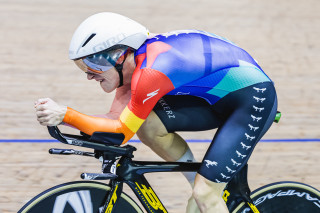 Women's team pursuit
Team Inspired's Ella Barnwell, Maddie Leech, Grace Lister and Jess Roberts won gold in the women's team pursuit after a dominant performance. Despite a restart in qualifying due to an early crash, the quartet still clocked the fastest time with 4:28.533 putting them through to the gold medal ride off.
Facing Scotland's Alba Development Team, Team Inspired made the catch in just one minute and 18 seconds to secure the national title. Toufati Active took the bronze after riding just over five seconds quicker than Jadan - Vive le Velo.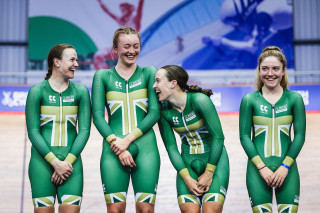 The racing continues tomorrow from 8:30, with medals up for grabs in the men's team pursuit, women's team sprint, women's points race, men's scratch race, para-cycling time-trial, men's keirin, women's 500m, para-cycling scratch race, men's team pursuit, and the women's points race. You can watch all the racing on the British Cycling YouTube channel and find out more about the event here.