The 2021 National Cyclo-cross Championships will be held at Crawley's South of England Showground, British Cycling has confirmed.
The championships will take place over the weekend of January 9 and 10, following the five-date 2020 HSBC UK | National Cyclo-cross Series, dates for which have also been released today.
The series will begin at Milnthorpe in October, and move on to Derby, Gravesend and Taunton before concluding at York Sport Village in mid-December, ahead of the national championships (full schedule below).
Dougie Fox, of national championships organisers, Crawley Wheelers Cycling Club, said:
"For the past two years, the Crawley Wheelers cycling club has successfully hosted a HSBC UK | National Trophy event at the South of England Showground with the support of both national and local sponsors including Evans Cycles, Kinesis and ErdingerAlkoholfrei.
"We are excited and proud to be hosting the 2021 National Cyclo-cross Championships, which will be a first for Sussex. With some new course features planned and an ever-growing event village, this will be one to look forward to."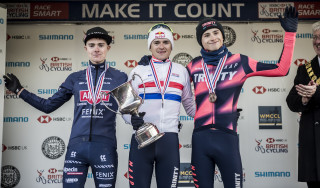 This year's championships took place in Shrewsbury, and saw elite category wins for Hattie Harnden and Tom Pidcock, who both went on to strong showings at the recent UCI Cyclo-cross World Championships, where Harden placed 11th in the under-23 women's race, while Pidcock's first elite race at world championship level resulted in a magnificent silver medal.
Millie Couzens (junior women), Rory McGuire (junior men), Ben Tulett (under-23 men), Zoe Backstedt (under-16 girls), Max Greensill (under-16 boys), Nick Craig (men's veterans 50-54) and Kate Eedy (women's veterans 40-44) were also among this year's national champions.
HSBC UK | National Trophy Series 2020:
Round 1: Westmorland County Showground, Milnthorpe: 3-4 October
Round 2: Moorways, Derby: 24-25 October
Round 3: Cyclopark, Kent: 7-8 November
Round 4: Pontispool Sports Centre, Taunton: 21-22 November
Round 5: York Cycle Sport, York: 12-13 December
National Cyclo-cross Championships 2021:
The South of England Showground, Crawley: 9-10 January