The British Championships is regarded as the biggest event on the BMX calendar and Charlotte Green and Curtis Manaton made the most of the occasion with victory in Blackpool.
Green took the honours in the Championship Women's class, leading a strong field out from the front in dominant fashion with arch rival Beth Shriever preparing for upcoming World Cup races.
Runner up Ellie Featherstone tried determinedly to push Green all the way to the line but was outclassed by the South West rider.
However Green believes Featherstone is one of the rising stars in the sport and recognises that next season could see the women's Championship class step up another level.
Men's elite
The men's Superclass final proved to be a major battle field for all involved with drama unfolding the entire race.
Kyle Evans was looking in good shape and with a good run of motos got number one pick of the gates, leaving close rival Curtis Manaton with second pick.
Evans got the best start, holeshotting straight into turn one, leaving the rest of the field in catch up mode but Manaton had his man when spotting a narrow gap.
The tricky manoeuvre nearly cost Manaton dear too, as cutting the corner scrubbed his speed, leaving him fighting hard to keep his legs spinning out in front.
Now it was time for Sharrock to attack with both riders making contact on the final jump though Manaton kept upright while his rival didn't, leaving Quillan Isidore and Brandon Pratt to take second and third respectively.
Conditions
Conditions for the morning practice runs started out unseasonably wet and cold.
But as the day progressed the sun made an appearance drying the track and bringing a bit of warmth into proceeding and by the time of the finals the course and the race were both red hot.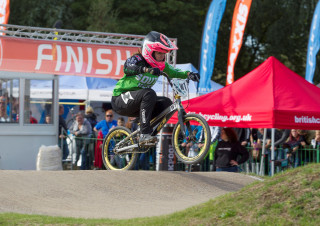 What they said
Charlotte Green: "Blackpool is a good track, not so much a great race track as it's pretty long and with the conditions today it's not made it any easier, but it was good for me
"The final obviously went well for me, it's a shame Beth (Shriever) isn't here. We've been pushing each other on and getting some good competition.
"Though I have to admit the rest of the girls are certainly starting to come up strong and fast.
"Ellie, who camesecond, will be stepping up a level I reckon next year so it looks like I'll have my work cut out for me to try and keep one step ahead if I can!"
Curtis Manaton: "I'm pretty happy with that I've not had the best luck at the Brits not since I won it in 2015.
"I felt good and managed to battle through as yeah that was a tight race and a real battle.
"I took the lead but felt that manoeuvre killed my speed a bit and I could feel it coming down the last straight.
"My legs completely blew up and I started feeling a bit shaky coming from the last corner.
"I could sense there was someone on my shoulder I was pushing through but bombed the jump and I think Paddy bumped it too and we sort of fell into each other luckily I managed to stay on and take the win.
Gallery
Results