Road To 2012
UEC European BMX Championships
Round 11/12, Haaksbergen, Holland

BMX: Road To 2012
British Cycling's Performance Programmes Explained
Team GB BMX Roster | Join Team GB
Result: Round 11 | Round 12
Video: Round 11 | Round 12
British Cycling's Olympic BMX Performance Programme competed in its final international competition before the UCI BMX World Championships later this month.
A team including riders from the Olympic Development Programme was headed by British Cycling's Olympic Development Coach Jeremy Hayes.
JUNIOR MEN AND WOMEN
British Cycling's Olympic Development Programme riders Kyle Evans, Tre Whyte and Grant Hill travelled with the team, while Abbie Taylor and Dan McBride made their way independently - all riders self sufficent at the event, but given coaching and mechanical support throughout racing.

Riders set up their accomodation for the weekend of racing...


...before Tre gets to work cooking dinner for the team.
In their second international race of the year came significant progress from a group of riders who will move into the Elite ranks next season.
Throughout the motos, riders achieved top three positions - the highlights of the weekend being Grant Hill making the final on both days of racing, Abi Taylor making the finals on Sunday, two riders in the semi finals on Saturday and three in the semi finals on Sunday.
Following the races, Jeremy Hayes was in confident mood.
"The riders have done really well this weekend, they now look very comfortable and confident competing in what is the hardest race series in the world. They have progressed steadily throughout the season both home and abroad, winning Elite men's finals in the UK and now easily making it through the heats and in to the qualifying rounds in Europe. We had three Junior Men making it through to the semi's on Sunday with Grant Hill making the Finals on both days and Abbie Taylor making the final on Sunday after a big crash on Saturday. It's been a good season so far for our ODP boys and girls and a great platform to move forward on.
"They haven't been pampered either. The riders have made their own way to the events all over Europe with me providing just the transport to two of the races, so it's been youth hostels and camping for the guy's but they've just got on with it and got the job done which is a credit to their determination and willingness to do what's needed to compete at this level."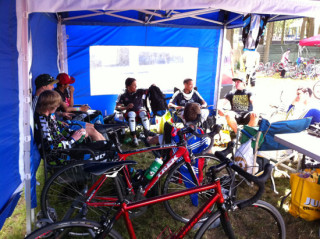 ODP riders take it easy in the team pit area.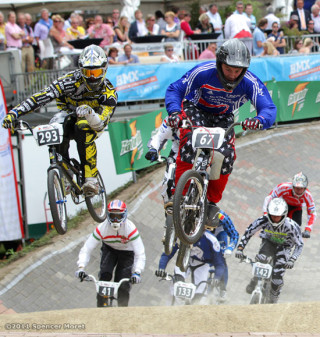 Grant Hill leads out Saturday's eventual winner Darren Goodwin.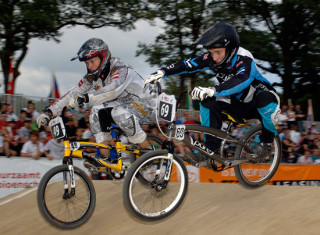 Dan McBride (right) races on the Haaksbergen track.

British Rider Results:
Saturday
Junior Men
Final - 7th - Grant Hill
Semi Final - 7th - Dan McBride
Quarter Final - 5th - Kyle Evans
1/8 Final - 6th - Tre Whyte
Junior Women
Semi Final - 5th - Abbie Taylor
Sunday
Junior Men
Final - 7th - Grant Hill
Semi Final - 8th - Kyle Evans
Quarter Final - 5th - Tre Whyte
1/8 Final - 6th - Dan McBride
Junior Women
Final - 4th - Abbie Taylor