Follow britishcycling.org.uk on
Shanaze Reade: The Second Coming
2010 BMX World Championships Home | Preview | Track | Live Coverage | Reports
A World Champion on the BMX track and velodrome, Shanaze Reade's success has been blunted by a two year absence through a series of injuries. Pietermaritzburg represents her second coming and a first shot at a rainbow jersey that fits just right. Luke Webber discovers why being World Champion matters to Britain's best-known BMX racer.
When being World Champion is a way of life, it's hard to have it taken away and harder still to stand by unable to make an impact. But perhaps hardest of all is having to publicly award the title - your title - to the new World Champion. The path from injury to resuming elite competition has been an awakening one for Shanaze Reade, who speaks hurriedly about the 2009 World Championships.
"Seeing her (Sarah Walker) pull on the jersey; it felt like it was mine. And even though no one owns it, I didn't like it. I had to be graceful that day; I was commentating for TV, but since then I have never forgot that time, the time I realized how much being World Champion means to me."
For Reade, this represented a shift in attitude as she openly admits since her first World title in 2006 every subsequent race win had a different feeling. "Since you're World Champion, every race win is like sealing a deal" Shanaze says, nonchalantly.
"I never feel like I'm World Champion. When I won in 2008 it felt like a released pressure rather than an actual pleasure of winning a big race.
"But the very first time I won the worlds in 2006 was amazing - I never had that same feeling ever since because it's been expected of me. This time if I win it will be more like the first time because I have been off for two years. In my eleven years of racing I always won the European title or World title and going into this I have nothing, it's a new challenge."
Part of that challenge has been a growing up process which included learning to get over injury, take responsibility and lead a more normal life. And such a break also provided the opportunity to assess what would be different the next time round.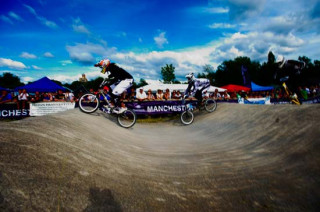 "When I won the 2008 World Championships everything for that was such a rollercoaster that I never had time to sit back, reflect and realize what I'd done. I look back at 2008 and I think of myself as a little kid; the last two years have allowed me to mature a lot, I've got my own house, paying bills, I'm in the real world. Before, I wouldn't say I got everything handed to me on a plate; I worked hard for all those titles, but now I find my bad experiences in sport have strengthened me out of sport as well.
"All this has helped to give me more balance in life - if you do too much of one thing it will send you over the edge and that nearly happened in Beijing. I can take a lot more control of what's happening now, rather than my typical phrase 'everything is going to be alright.' Today I take a check on everything."
Part of that new mentality is reflected in a renewed single minded approach, best surmised as I ask Reade whether having her mum and brother alongside her in South Africa will make any difference.
"I wouldn't care if nobody was at this race, it's such a personal thing. I have been doing the training every day and it shouldn't matter what happens, who comes; all I can control is myself. I've trained the hardest I've trained for a long time and to get the title would be great. But I'm just another rider who has done that and wants to win the race."
Perhaps what will set Reade apart on race day won't be the fact she has the most powerful start, or that her technical skill is among the best; but rather the mental approach. A heavy focus on visualisation - something Reade describes as "treating her mind like a computer game" was evident as she went a second faster than her previous personal best in Aigle.
Those five days in Switzerland ended with ten gate starts each night in bed, with the strong image of a win in South Africa. But with just weeks to go until the World Championships, Shanaze was faced with a very different image.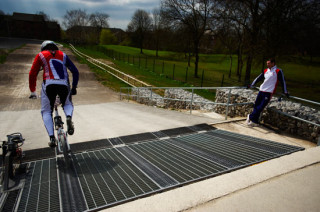 Laying on the floor at the Manchester round of the British BMX Series was the worst possible preparation for the rainbow jersey contender, and in that moment Reade admits "I thought I was out, having won nothing."
Thankfully, although the crash was hard, Reade reacted well to treatment and could resume training following two weeks of rest and with the right attitude back in place flies to Pietermaritzburg with one arm already in the sleeve of the rainbow jersey.
Now all that remains is for Shanaze to quit visualising and step onto the podium for real.