Follow britishcycling.org.uk on
Report: South West Summer Series Round 8
Words: Alan Humphrey Photos: Pat Caddy
Posted July 28 2010
In the words of Carly Simon, "nobody does it better", and that's so very true of the events that the volunteers of Cornwall BMX Club organise. The meeting was supported by Ginsters of Cornwall and it was good that some of their personnel were in attendance to see where their money had gone. A delivery of hot pasties midday to coincide with end of practice was an example of the thought the Club's committee had taken to get things just right and the catering from their in-house café was superb with a wide choice of foods.
Hosting round 8 of the SW Summer Series on the same day that Gosport were running their regional two weeks ahead of the National there, it was inevitable that a number of riders 'up country' to Cornwall were going to go there. That 180 entrants attended, of which 53 were from CBMXC, was a reward for the host club for their efforts. Being in a holiday area it was good to see Chris and Jack Platt from Mid Lancs Club taking part. Thankfully the weather held good despite a light north-westerly breeze which didn't detract from some superb racing on a well-prepped track in an idyllic location.
Cornwall's Rhys Fraser and Dennis Stewart used local advantage for the one-two in Novice 6 and Under whilst in 7-9s Cornwall's Harvey Bardoe held off the challenge of club rival Liam Bridger for a superb win. Bideford's Ben Searles took a set of wins in the 10-12s ahead of Cornwall's Ryan Harris. Decoy's Kieran Draper led home Bideford's Alex Hammett in 13-15s whilst in the 16+ it was all about Cornwall's Alex Will from Decoy's Chris Draper.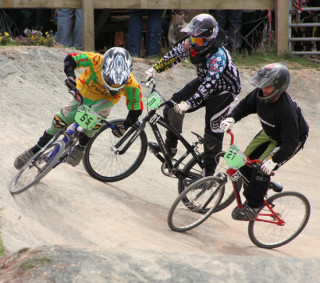 Bath's Jack Hawkins swept to victory in Expert 6 & Under from Burnham's Cory Maggs and in the 7s it was Duchy Pirate Jack Nation who stormed to victory by the narrowest of margins from Exeter's Freddie Cole. Burnham's Ben Saunders reigned supreme in the 8s from Decoy's Finlay Smith-Jones and in the 9s Alfie Eccles from Decoy held off the challenges of Exeter's Charlie Roast to win the group overall. Throughout the season the 10s have been all about Alex Diment winning, but this time Daniel Commons-Lomax reversed the finishing order for the two Cornwall riders with three moto wins to take overall victory. Exeter's Jim Cole won the 11s overall from Bristol's George Rooke whilst in the 12s it all went right for Cornwall's Josh Caddy to win outright from Burnham's CJ Tye.
Tyler Caddy from Cornwall took the A Final in the 13s from Burnham's Kurt Pugsley and in the 14s Burnham's Roy Jones held reign over Cornwall's Bobby Long. Duchy's Matt Roddis was on top form in the 15s to lead home Decoy's Oliver Fay. Cornwall's Owen Reed took all the wins in the 16s from Bideford's Daniel Jury and in the combined Masters/Veterans class it was Neil Hopes from Bristol who held off the challenges of visitor Chris Platt. The young guns of racing in 17-24 saw a return to top form for Duchy's Ben Clarkson who won the group from Decoy's Jason Fay who reaped the benefit of a fourth race slideout by Exeter's Sam Leggett.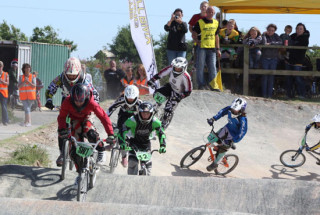 In the combined cruiser class for 9-14s it was Burnham's Roy Jones who won ahead of Cornwall's Josh Caddy and in the 15-29s Bideford's Brian Jury romped home ahead of Cornwall's Peter Kemp. A stunning win in the fourth moto for Bath's Clive Hawkins just inches ahead of Decoy's Paul Eccles wasn't enough to give him overall victory in the 30-39 group, that honour going to Tiverton's Jason Nicholls. Neil Hopes from Bristol and Exeter's Brian Shell took advantage of their younger years in the combined 40/45+ group A Final for 1st and 2nd respectively with Cornwall's Ian Wherry taking the overall victory for the 45+ contingent. Duchy's Mike Mullaney took a nasty tumble in an early moto resulting in a couple of rib fractures which will keep him off his bike for a few weeks and his speedy recovery is wished for especially when its appreciated that he is in his late fifties and he is a relative newcomer to racing and hopefully this injury won't put him off competing.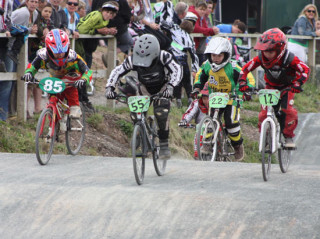 Cornwall's Laura Berry found herself in the front of the combined 6&Under/7-8 years female group but it was Burnham's Tali Tye who won the younger group from Exeter's Louise Beck. The almost unbeatable Megan Wherry from Cornwall continued her domination of the 9-10s ahead of team mate Yasmin England whilst in the 11-12s Burnham's Alesi Tye held off the attention of Tiverton's Shannon Blake. Cornwall's Katy Kemp in 13-14s found herself thrust into the 25+ cruiser group but gave Duchy's Lauren Shaw Sands some close challenges albeit Lauren took the overall victory for the group with three superb wins.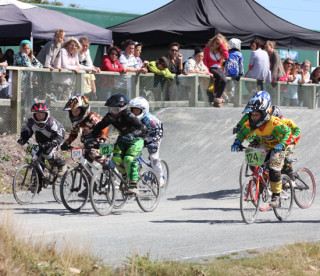 A bucket collection was made during the interval for a local lad, Adam George, who suffers from Spinal Muscular Atrophy and Arthrogryposis which severely restrict his movements and ability to enjoy the things that other children of his age can do. The collection raised over £230 which will help towards equipment Adam needs including a new lycra suit designed to improve his posture. Donations can be made via PayPal at http://www.adamsfund.co.uk/page_1218667790218.html and all contributions will be greatly appreciated. Cornwall BMX Club are donating half the proceeds of their next major event, the Team Challenge, to be held on 22nd August.
With Round 9 being held at Bath there are a number of classes that are already decided but that won't stop the riders turning out on 1st August at this popular track and details of the event can be found on the club's website at http://www.bathbmx.com/