Manchester's National Cycling Centre played host to the opening rounds of the 2022 National BMX series at the weekend, with Olympic and World Champion Bethany Shriever finishing the weekend with back-to-back victories.
Round 1
Ross Cullen was on top form as he posted the fastest lap of the day to take the win, whilst Paddy Sharrock showed off some amazing manual skills during the weekend produced a great performance to take second, and finally Ed Moore showed some awesome speed to take third.
The Olympic and World Champion Beth Shriever was in a class of her own breaking into the 29 second lap times on both days. Emily Hutt rode very consistent all day and had a well deserved second place, and Betsy Bax who was competing in her first year of Championship Women rounded off the podium with a great third place finish.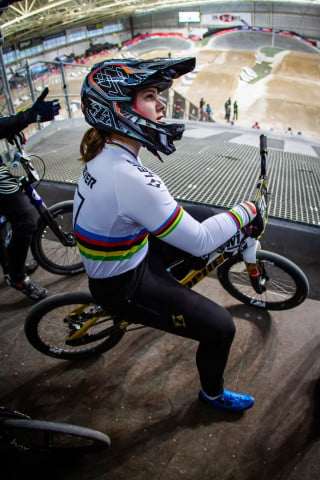 Alex Talbott went on to take the win in the Junior Men's final after edging out Renato Da Silva in the first berm with Adam Gilbert rounding of the podium to take third.
2022 BMX National Series Round 1 Results
Superclass
1st Ross Cullen
2nd Paddy Sharrock
3rd Eddie Moore
4th Callum Russell
5th Quillan Isidore
6th Chad Hartwell
7th Matthew Hutt
8th Ryan Martin
Championship Women (17+)
1st Bethany Shriever
2nd Emily Hutt
3rd Betsy Bax
4th Ava Brown
5th Morgan Haslam
Junior Men
1st Alexander Talbott
2nd Renato Da Silva
3rd Adam Gilbert
4th Mark Fletcher
5th Bradley Russell
6th Ashton Cooper
7th Charlie Roy
8th Charlie Clare
Round 2
The Superclass men's final was action packed with Paddy Sharrock and Ross Cullen battling it out at the front, but it was Paddy who came out on top after Ross ended up off track - going on to take a convincing win ahead of Eddie Moore and Matthew Hutt. Cal Strickland had a nasty crash but luckily was able to walk away with just cuts and bruises.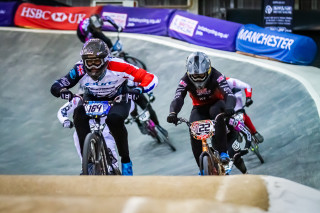 Beth Shriever was just as dominant as she was on Saturday with four moto wins, including her fastest lap of the weekend in Moto 4 with a time of 29.714. Both Emily Hutt and Betsy Bax went onto repeat their achievements from Saturday - finishing second and third. A special mention goes to the two new riders in this category - Morgan Haslam and Ava Brown - who showed some great potential.
The Junior Men's Final got off to a great start with four riders bar-to-bar as they dropped into the first berm. This time it was the turn of Renato Da Silva to take victory after a great pass around the outside of Alex Talbott in the first berm. Hardknox rider Ashton Cooper went onto produce his fastest lap of the day to take third place.
2022 BMX National Series Round 2 Results
Superclass
1st Paddy Sharrock
2nd Eddie Moore
3rd Matthew Hutt
4th Callum Russell
5th Matthew Gilston
6th Chad Hartwell
7th Cal Strickland
8th Ross Cullen
Championship Women (17+)
1st Bethany Shriever
2nd Emily Hutt
3rd Betsy Bax
4th Ava Brown
5th Morgan Haslam
Junior Men
1st Renato Da Silva
2nd Alexander Talbott
3rd Ashton Cooper
4th Adam Gilbert
5th Charlie Roy
6th Mark Fletcher
7th Bradley Russell
8th Casey Markley\