The final meeting of the HSBC UK | BMX National Series takes place this weekend with riders heading to Cyclopark in Kent for rounds 11 and 12.
Podium places are still up for grabs after a thrilling season of racing.
How the series works
Riders are awarded points based on their results in each round (up to a maximum of 100 points per round) A rider's best seven results from the 12 rounds in the series makes up their total. The rider with the highest total in their respective category is crowned HSBC UK | BMX National Series champion.
Superclass
Curtis Manaton has already wrapped up the 2017 title and the Burnham BMX Club rider will be in action in Kent this weekend.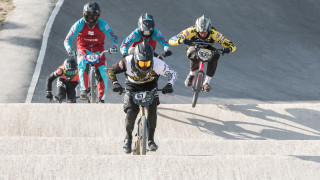 His nearest rival, Kye Whyte, is not set to compete in the final rounds, but the Great Britain Cycling Team star knows he is guaranteed to finish second.
Three riders will do battle for the final place on the series podium, with Billy Luckhurst the favourite to take third.
The Runnymede Rockets rider currently has 550 points but would be keen to improve upon his lowest 'best' score of 70.5 points from round four.
If Luckhurst cannot better his current total, fourth placed rider Calum Strickland could leapfrog him.
The Manchester BMX Club rider is only nine points behind him and his current lowest score on his total is just 57 points - giving him plenty of chance to increase his total with a good performance.
Adam Brazil (Burnham BMX Club) is currently fifth on 508.5 points, with much to do to outrank his rivals and take third, but an overall round win could see him reach the podium.
Championship women
Newly-crowned junior world champion Bethany Shriever has already wrapped up the women's title with a dominant domestic display.
The TNTS rider has won the last eight rounds in a row - and despite the pressure being off at Cyclopark this weekend, who would bet against the Great Britain Cycling Team star making it ten in a row?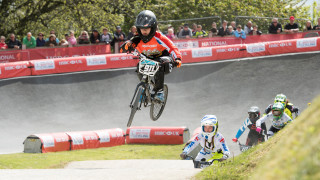 Behind her, there's an intriguing battle for second and third.
Charlotte Green currently has the edge on 640.5 points - her current lowest 'best' score is an impressive 90.5, meaning a round win would boost her chances of silver in the series.
In third place, junior European champion Blaine Ridge-Davis has 625 points, but her worst score is 78.5 - meaning a round win is equally as important for her.
Venue
Cyclopark in Kent has been a regular stop on the HSBC UK | BMX National Series since 2013 - in addition to a 330 metre BMX track, the Gravesend facility also has a closed road circuit and mountain bike trails.
How to follow the HSBC UK | BMX National Series
A report, gallery and results will appear on the British Cycling website
Follow @BritishCycling on Twitter
Live updates across the weekend and Facebook Live streaming of the finals on the HSBC UK | | BMX National Series Facebook page.