Great Britain Cycling Team Academy's BMX and mountain bike riders travelled to Zolder and Plas y Brenin respectively for half-term training camps.
Part of British Cycling's Rider Route, which helps most promising riders become the stars of world and Olympic cycling, a mix of Senior and Junior Academy riders made the trips between 14-19 February.
The picturesque Plas y Brenin, Wales' national mountain bike centre, hosted the Academy for five days of training which included lab tests and trail rides.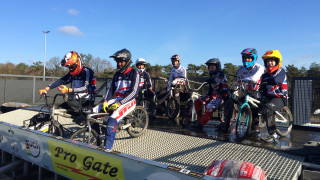 Zolder's BMX track, host of the 2015 world championships, allowed the Academy's young riders to experience an outdoor supercross track and start ramp.
Four riders on British Cycling's Rider Route told us about their experiences…
Sophie Wright: Mountain bike Junior Academy
"I've just got back from an epic five-day training camp with the academy MTB team. We started on Monday with the lab testing which was a new and very interesting experience.
Four seasons in one day at our Great Britain Cycling Team MTB Academy training camp in Wales!#RiderRoute pic.twitter.com/NLN0UfNvrh

— British Cycling (@BritishCycling) February 18, 2016
In the evening we arrived at Plas Y Brenin which is an awesome mountain centre in north Wales catering for lots of outdoor activities. During the week we were out every day on our bikes either trail riding, improving our technical skills or both, with expert help from the coaches and guest senior riders.
"I didn't find the camp too tiring as it was specifically focussed on working on our technical ability; this will really help when I race internationally this year which I can't wait to do!
"I'm not the fastest at technical descents, however, riding with the Senior Academy riders meant I had to push myself to keep up with their pace which ultimately built my confidence with this technical aspect of mountain biking."
Dan Tulett: Mountain bike Junior Academy
Our mountain bike Academy riders are put through their paces during half-term training camp.#RiderRoutehttps://t.co/C6k2k1aZ9y

— British Cycling (@BritishCycling) February 17, 2016
"Being on the Junior Academy has been a great opportunity for myself to progress and learn as an athlete. When on camps I feel as though I am in a 'free to fail' environment, which I feel very comfortable in.
"As most of the camps are joined alongside some of the senior academy camps, it means we are always pushed while riding.
"Being part of the Junior Academy and Great Britain Cycling Team has also given me access to the best coaches, physiologists and mechanics, all of which have played a vital role in my understanding of the sport and how to get the most out of myself.
"Although I have been unable to push myself during training due to trying to recover from fatigue, I have come away from the camp learning about important things such as recovery and eating during and outside of riding."
Tian Isidore: BMX Junior Academy
That's a wrap for our GB Cycling Team BMX Academy half-term training camp in Zolder, Belgium.#RiderRoute pic.twitter.com/gOuM0hUB8e

— British Cycling (@BritishCycling) February 17, 2016
"The past week in Zolder was a great experience for me. It gave me a chance to ride my first outdoor supercross track and become more comfortable on the pro jumps.
"I was pleased to have the opportunity to do this as it will prepare me well for the years to come when I'll be racing off of the supercross hill and over the pro jumps in junior men and elite men.
"The first two rounds of the European series are held at Zolder at the start of April, so the track time has made me more confident on the track and will give me more of an edge at the race. I can't wait to go back!"
Blaine Ridge Davis: BMX Junior Academy
Academy BMX riders Blaine Ridge Davis & Bethany Shriever take on the first jump at training in Zolder. #RiderRoutehttps://t.co/g456Mzm0AS

— British Cycling (@BritishCycling) February 16, 2016
"My time at Zolder was a valuable experience. It was good to spend some good quality time on the track as there is a Euro round there during the year.
"Also as it being my first year junior I will be doing super-cross, which I'm hoping to make the final, so it was great to spend time practising off the super-cross hill especially as it's my first time doing supercross where it's outdoors.
"All in all Zolder camp has been a great camp and a step in the right direction. Many thanks to British Cycling and my coach Marcus Bloomfield for giving me opportunities like this."
Helping the most promising riders become the stars of world and Olympic cycling.
Find out more about