---
Cycle Route Provision
Middlesbrough is at the confluence of three National Cycle Network (NCN) routes; Route 1 which runs south from Sunderland into the town along the banks of the Tees. NCN1 then runs out east towards Whitby. NCN65 runs south into Yorkshire while NCN14 links Middlesbrough with Darlington to the west and Hartlepool to the north east. Within the town itself Middlesbrough Council is dedicated to providing "a seamless hierarchy of cycle routes, allowing cyclists to access all parts of the Borough." (Middlesbrough Council Cycle Strategy, Feb 2012) and the local authority's cycle map has full details of the town's cycle routes and other amenities.
Cycle Parking
The jewel in the crown of Middlesbrough's town centre provision is the Cycle Centre, located in the bus station. The Cycle Centre offers free, secure parking, lockers, showers and changing facilities. Click here for more details.
Middlesbrough Council, in conjunction with ParkThatBike, is offering voluntary sector groups, small businesses, shops, offices, cafés, pubs, places of worship, surgeries, allotments and sports grounds free bicycle stands under the community cycle parking scheme. Under the scheme, organisations can apply for two bike stands, enough parking space for four bikes. Click here for more information.
Middlesbrough Cycle Map shows the location of existing parking provision.
Cycling and Trains
Middlesbrough railway station has sheltered cycle storage in the station concourse. In terms of taking bikes on trains, policies differ considerably between train operators. For full details of operators' cycle policies click here.
Bike Shops
Use our bike finder to find bike shops in the Middlesbrough area.
Beyond Commuting
British Cycling and Middlesbrough Council have brought Sky Ride and Sky Ride Local to the town, offering mass participation cycling in the summer and year round led-rides for cyclists of all abilities.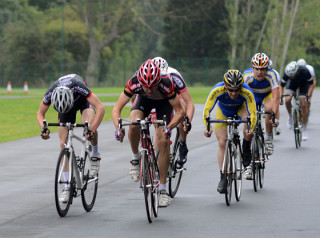 Middlesbrough Cycle Circuit, at Prissick, was also developed in conjunction with British Cycling. The one-kilometre floodlit circuit is available for recreational use or hire by groups and clubs.
Links
Middlesbrough Council Cycle Map
Middlesbrough Council Cycling Strategy