Chris Foy (not Hoy) works for VisitBritain and commutes into central London on average four days per week - enjoying the contrasts between idyllic Richmond park and the cut and thrust of the King's Road.
---
Name: Chris Foy
Workplace: VisitBritain, the National Tourism Agency
Tell us about your commuting rig:
I'm marked out by a lack of technical knowledge of my steeds – I like them, they work for me and they take a few thousand miles of commuter punishment every year – job done. Most of the time I'm on a ProLite road bike, but occasionally jump on my Cannondale Bad Boy (a vanity purchase), and when the snow / ice comes I'll switch to the Specialized Stumpjumper MTB to keep a grip
Above: Just because your commute is through the city doesn't mean you're starved of beautiful views.
What's your commute like?
It's 12.5 miles from Teddington to central London so about 4,500 miles a year – roughly split into half uplifting and half keep-your-wits-about-you-or-else. The uplifting half takes in Ham Common and Richmond Park with a good climb either way. The rest of it is along the King's Road which has its fair share of white vans, school runs, and Chelsea tractors to contend with.
How many days a week do you commute by bike?
4 on average. I work on the Olympics so I'm out around the country quite a lot. I have been known to take a bike with me on the train to Weymouth and Eton Dorney.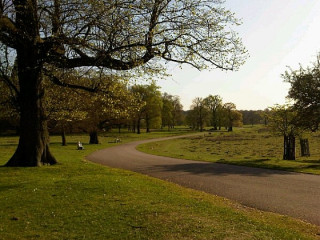 Above: Richmond Park is a favourite destination for many a London cyclist, including Chris.
What do you enjoy the most about bike commuting?
Richmond Park – Fresh air, no cars, and a fine cavalry of cyclists making it their own before the cars are let in. Oddly I also rather like the no-guts-no-glory required to navigate Sloane Square.
What's your least favourite thing about commuting by bike?
Driver doors, and cold fingers on icy mornings.
What are your main reasons to commute by bike?
Cycle commuting means that I get to work feeling sharp and ready for the day. It also saves a fortune and gives me the privilege of riding through some beautiful places that other commuters don't get to see.
Have you got any funny or interesting bike commuting stories or experiences to share?
I left the receptionist at London 2012 rather disappointed once as he was expecting Chris Hoy, (not Foy) to turn up for a meeting. Arriving in bike gear just added to his confusion…
What's your killer commuting tip?
Keep your wits about you when you're in the thick of it. Keep a camera handy – stop, enjoy and capture the views from time to time.
How does your British Cycling membership support your bike commuting?
It provides the insurance, and the occasional useful nugget in the newsletters.
---
Send us your Commuter Profile!
We want to know about your commuting experiences; how far you go, why you choose to ride, your killer tips and your commuter grumbles. Download, complete and email back your commuter profile to editor@britishcycling.org.uk and tell your story. Feel free to include a photograph/photographs of you and your trusty commuting bike!
Download Commuter Profile Form (Word Document)
---