---
The stage is set for the Great Britain Cycling team to conclude their last major championships in the lead up to this summer's Olympic Games in London. Not only will be this be the last chance for riders and coaches to assess their form but this will also be the last chance to gain points for Olympic qualification prior to the UCI rankings being closed.
Following on from the successes of the team in the recent world cup in London, the pressure will be on for the 16 strong team to prove their form hasn't dipped in the last six weeks. Individual riders will also be keen to prove to selectors that they have what it takes to fill the single spot which is now allocated to each nation for each individual event.
SPRINT
The selection for the World Championships are sprinters Jason Kenny, Chris Hoy, Matt Crampton and academy rider Philip Hindes. For him, this will be his first World Champs and an opportunity to show his mettle in the hotly contested spot to lead out the Team Sprint . In a recent interview, Hindes told the Press Association:
"It's a big step for me to go to the World Championships and it's a good opportunity to go there and to show what I can do. I'm really happy it has gone so well. It proves I did everything right."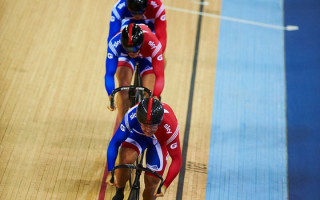 The men's individual sprint also promises plenty of excitement as Olympic champion Sir Chris Hoy faces reigning world champion Jason Kenny, both knowing that only one of them can compete for the Olympic title in this summer's games. Hoy, having taken gold in the sprint at the new Olympic track in February and having qualified with the fastest 200m (in a time only just over a tenth slower than the Olympic qualification time he clocked at the Laoshan velodrome nearly four years ago) must give him confidence going on to the track in Melbourne. Especially as he failed to break under ten seconds at the same point in the last Olympic cycle at the UCI World Championships in Manchester in 2008.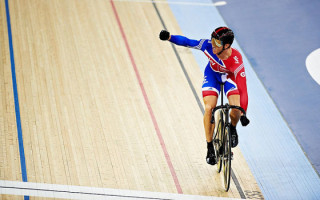 On spirits of the team camp in Australia, Hoy recently said: "Everyone is relaxed and happy, looking forward to competing. I think you can judge the general mood by the level of laughter at mealtimes when the whole team is together, and so I'd say morale is good!" in an interview with chrishoy.com
The women's sprint squad will include Victoria Pendleton and Jess Varnish. Pendleton and Varnish will return to competition crowned as the world record holders of the event, which they broke during an amazing display of team sprinting in last month's final round of the UCI Track World Cup in London. All eyes will be on them to see how they fare against the might of the current and three times world championship team of Anna Meares and Kaarle McCullough on home soil.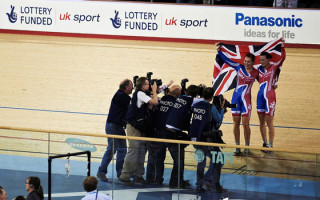 ENDURANCE
The team pursuit will kick off the event with the men's endurance squad named as Steven Burke, Ed Clancy, Pete Kennaugh, Ben Swift, Geraint Thomas and late inclusion to the team of Andy Tennant. Of Tennant's inclusion, Performance Director Dave Brailsford said: "Training over the last couple of weeks has gone really well. Andy has justified his inclusion in the squad and will travel to Melbourne."
The focus of attention will be how the men's team pursuiters get on against a strong Australian team on what will be a familiar track to them. Having taken gold against Great Britain in London last month with a time that was 1.7 seconds quicker than the british squad in the final and only 1.3 seconds off the World record set by Clancy, Wiggins, Thomas and Manning in the XXIX Olympiad in Beijing in 2008. Eyes will be on them to see if they can surpass this four year record or indeed, just how close they can get to it in the lead up to this summer's games.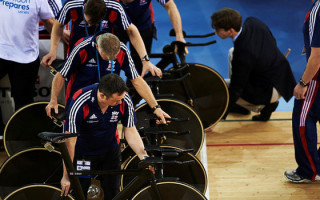 Laura Trott is to compete in both the Team pursuit and the Women's omnium. Trott has always showed good form in the latter of these events since her impressive win at the junior world championships in 2010. In a recent interview with the Press Association, Trott said: "Okay, I won junior worlds, but I won that because I was a lot stronger for my age than most people are. Then I got flung into the women and I was rubbish. Now, I've got medals at the last two World Cups. I've made mistakes and still medalled."
Although an omnium bronze medallist in the recent world cup in London, partially due to being such a strong contender in the 500m time trial, she definitely knows where she has work to do.
"I had a good few events - the points race let me down massively. I came 17th. That's pretty bad, considering only 22 people rode." She said.
Working with her coach Paul Manning has hopefully helped to improve her skills and iron out any doubts she any have over her abilities in the points race. With this in mind, the possibility is there for Trott to move up the medal places in Melbourne.
"I only scored one point (in the points race) at the London world cup but if I'd scored two, I'd have come ninth and won the omnium (overall).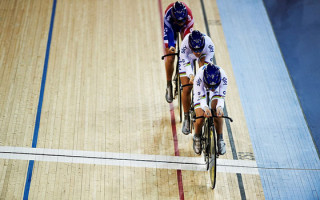 For the women's team pursuit, the three strong team has been initailly chosen as Dani King, Joanna Rowsell, Laura Trott. After Houvenaghel's exclusion from the final gold medal and world record breaking ride in which she was replaced in favour of Dani King, she will be keen to prove that she has what it takes to gain a last-minute inclusion in either the qualification rounds or a place in a potential final and ride all the way to the podium in Melbourne. In a recent interview with the Press association, Houvenaghel said:
"It was important and it makes us stronger as a team now that everyone has raced under race conditions on the Olympic track. It was a fabulous achievement and it would've been great to have been part of that performance. But I'm convinced we're going to go much faster in the months leading up to the Olympic Games. There are big things to come."
Latest team news from the Great Britain camp in Melbourne regarding line-up is as follows (which is obviously subject to change):
Men's Sprint:
Team sprint: Philip Hindes, Jason Kenny, Sir Chris Hoy
Sprint: Sir Chris Hoy, Jason Kenny, Matt Crampton, Philip Hindes
Keirin: Matt Crampton, Jason Kenny, Chris Hoy
Kilo: Steven Burke
Women's Sprint:
Team sprint: Victoria Pendleton and Jess Varnish
Keirin: Victoria Pendleton
Sprint: Victoria Pendleton, Jess Varnish
500m tt: Jess Varnish
Men's Endurance:
Team pursuit: Ed Clancy, Pete Kennaugh, Andy Tennant, Geraint Thomas
Scratch race: Ben Swift
Points race: Ben Swift
Omnium: Ed Clancy
Madison: Geraint Thomas and Ben Swift
Individual pursuit: Geraint Thomas
Women's Endurance:
Team pursuit: Joanna Rowsell, Laura Trott, Dani King
Omnium: Laura Trott
Scratch race: Dani King
Individual pursuit: Wendy Houvenaghel, Joanna Rowsell
Racing starts on 4 April to 8 April at the Hisense Arena in Melbourne. Coverage will be available each day throughout the championships on the British Cycling Website
TV Schedule
BBC: Evening sessions live on red button from 10am each day. Daily highlights on red button at 7pm each day. Sunday BBC2 2.30pm – 5pm.
British Eurosport 1: Weds 10am - 12.30pm, Thurs 10am-2.30pm, Fri 10am-2.30pm, Sat 10am-2pm, Sun 10am-1.30pm.