---
The first international track meeting of the crucial 2011/12 season, the European Championships, will provide the first indication of form going into Olympic year with the opening World Cup event three weeks away.


The women's Team Pursuit squad of Dani King, Jo Rowsell and Laura Trott line-up for a kilometre effort, one day before their Championship race.

Less than 24-hours out from the start of competition, the British Cycling team are settled following a return to Apeldoorn - scene of the 2011 World Championships.
Seven months previous the Omnisport Arena hosted Dani King, Laura Trott and Wendy Houvenaghel's gold-medal winning ride - and tomorrow King and Trott are joined by Jo Rowsell and Sarah Storey to contest the European title.
In a final preparatory ride, King Trott and Rowsell completed a standing-start kilometre, Storey joining the trio later for a rolling eight-laps.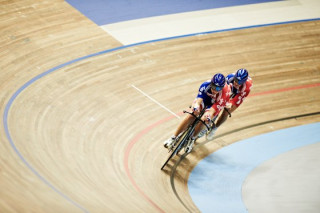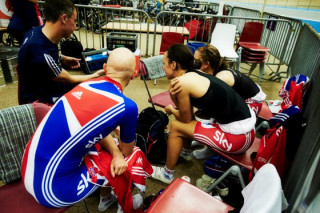 Rowsell, King and Trott watch a video replay of their kilometre effort, with Paul Manning on analysis
Back at the hotel, the service and training room was used by Ed Clancy and Steven Burke for a brief roller session, while Geraint Thomas, Pete Kennaugh and Andy Tennant took in a relaxed hour on the road.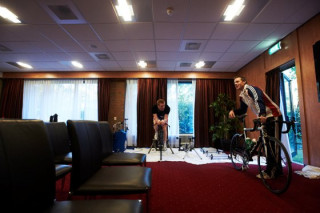 Dan Hunt (right) observes Ed Clancy, who is expected to ride both Team Pursuit and Omnium later this week.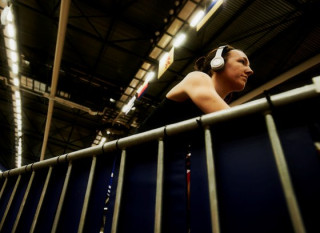 Dani King - Team Pursuit World Champion - warms up for her kilo effort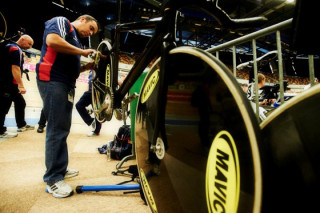 Team mechanic Mark Ingham uses vinegar to clean the tyres of a Team Pursuit bike

RETROSPECTIVE
Sir Chris Hoy's unexpected early exit, Laura Trott's first senior Championship appearance and three gold medals; the 2010 Europeans provided upsets, benchmark performances and introduced new names; but in 2011 the outcomes are expected to be far more predictable.
From last year's newcomers, to this year's established names, twelve months has seen significant evolution for the British Cycling track programme.
Last year Laura Trott spoke of her youth, lack of experience and development following a tough first senior Championship.
"I am the youngest by miles and it is only because they have that much more strength over me that is holding me back really. If the first race I win is in 18 months, then I'd rather it come then and I win an Olympic title rather than worry about winning the European seniors when I am only 18."
Trott didn't have to wait that long however and as Team Pursuit World Champion and one British Cycling's most exciting prospects in track racing the European Championships will be a different event in 2011.
Following the British Championships Hoy also looks to be returning to the form that saw him take three Olympic golds in Beijing, with winning performances in the sprint, team sprint and keirin.
British Cycling will be live with exclusive pre-event build-up race coverage from October 20.
European Championships - Great Britain Cycling Team
Men's Sprint:
Matt Crampton
Sir Chris Hoy
Jason Kenny
Jason Queally
Women's Sprint:
Victoria Pendleton
Jess Varnish
Men's Endurance:
Steven Burke
Ed Clancy
Peter Kennaugh
Andy Tennant
Geraint Thomas
Women's Endurance:
Dani King
Joanna Rowsell
Sarah Storey
Laura Trott