---
are possibly one of the friendliest clubs I've come across. I arrived early on Sunday morning for the High Peak Hog sportive.
At registration they tried to convince me to go the whole hog but I assured them I wouldn't be back in time for the post ride feast if I did that. I thought I'd prepared well the night before packing my bag only to find the next morning I'd forgotten my gloves. Thankfully there was a stand selling cycling kit so I was able to buy some lovely new gloves for which I will be eternally grateful. The club had a well organised set up at the start and after a quick briefing they let groups of about 20 riders head out.
I started with a couple of friends in the last wave and headed off out on the road. The weather was fine and it looked like we might be lucky enough for the rain to hold off. We were straight into Snake Pass without much warm up but I chugged up it slowly as I had been warned the ride was pretty tough later on. Most of the group was ahead of me but I didn't really mind. Snake Pass was a gradual and steady climb which I rode up without any problem. Then the dip down towards Ladybower Reservoir was fast with some lovely views.
We then turned off Snake Pass on the strines. This was a lovely road without much traffic and gorgeous countryside. The weather was still ok and the views just lovely. We then hit the 3 climbs on the strines. The first wasn't any problem but the second really got the lungs working and the legs pumping. I'd been warned the 3rd of the strines was the hardest so I was a bit scared that I'd have to get off and walk. My descent was slow and then the hair pin bend at the bottom got rid of any speed I did have. But somehow I made it to the top without stopping or walking. Thanks to the guy in the silver van who gave me a bit of encouragement to make it to the top. I thought my lungs were going to burst and cursed my lack of hill training but was so proud when I made it to the top.
Once we were over the strines I knew it wasn't far to the feed station which was brilliantly placed at just over halfway. I was so happy to see so many friendly faces to give me a flapjack, peanut butter sandwich and some water for refills. Also a very nice man that held my bike whilst I faffed around with food and drinks. As we left the feed station my friend summed up my feeling by saying "it is amazing what some food and drink can do for you". We felt rejuvenated and ready for the second half of the ride. I somehow had told myself that the hard part was over and it was all going to be fine from here.
It was a nice ride from the feed station up towards Holme. Some great roads and it all passed in a bit of a happy blur. Looking back I was blissfully unaware of the next challenge. Then the rain started. It started off fairly light and I was adamant I didn't need a rain jacket. I eventually gave in to my rain cape and was grateful as the rain got heavier around Holme. Then I saw the sign for the final climb which was given a 5 hog rating (that means it's the hardest one!) and prepared myself to dig deep.
Having never ridden this route before I wasn't sure how long the climb would be. I completed the first part easily and foolishly though it was over. Then the real hill started. I can't lie about this hill. It hurt. A lot. The wind was trying to push me back down the hill or sideways off my bike. I didn't really notice the rain, in fact I think I was quite grateful as it was cooling my face down a lot. I passed a number of people walking up the hill and frequently thought they had the right idea as my cadence was so low I was in danger of falling off sideways. But I couldn't face the shame of getting back to base and telling my fellow riders that I'd given up and walked. Turns out I'm pretty stubborn.
There were markers on the road (I think they're left over from Tour of Britain) saying one mile to go and then counted down every quarter mile. I'm still undecided if these markers helped or made it worse when I realised how long it was taking me to do a quarter mile! When I saw the top I think I might have cried a little bit. I then sat behind a parked mini with one of my friends and sheltered from the wind for a while. We then regrouped and I couldn't feel my fingers very well which made for an interesting descent.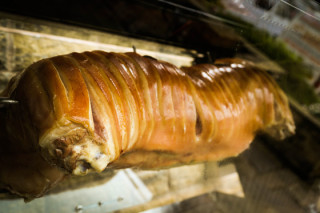 When I saw Woodhead reservoir I was so happy to be near home but managed to find time to enjoy the nice route around the reservoir back towards Glossop. By the time I got back to Glossop I was soggy and a bit cold but I was proud and happy that I hadn't given up. Then for the best bit… the hog roast! If there's anything that helped me around this route it was the idea of a hog roast at the end. I was seriously impressed with this. After a hot cup of tea and some food I felt like a new woman. I was also given my certificate for completing the ride which was a nice touch.
On the drive home I found myself contemplating which bits I could've done faster or better and what training I would do to make myself fitter for next time. I find myself wondering why I'm considering doing this again and to be honest I don't really know why.
I think I've got the sportive bug.....