---
When organisers of the Etape Caledonia announced Britain's first closed-road sportive in 2007, little did they expect to create a cult event that would become Britain's biggest.
Six years previous the concept of a paid-for, traffic free cycling event on public roads was welcomed, if with some scepticism of cycling's appetite to fill 2500 offered entries.
That in 2013 twenty-times that amount were sold for the Ride London 100 – an event which without the Caledonia, would not have had the environment to flourish – demonstrates the journey made by Ollie Knights and the IMG Challenger World team behind the original closed-road mass participation ride in Britain.
And what started as a unique selling point became an astute commercial move, because as sportives held on open roads were limited to around 1500 riders per day, Etape Caledonia had room to grow from 2500 to 5000 participants in a safer environment.
Ollie describes the phenomenon as something which was "once a selling point, now a critical mass."
"We never knew how big sportives were going to get." Knights acknowledged.
"We always knew it was a growth area but never in our wildest dreams did we think we'd be getting to the point where we had to put on closed roads purely because of the numbers involved.
"In 2007 we felt allowing people to cycle on traffic free roads would really add another dimension on to a sportive you'd otherwise do on any given Sunday. We felt it would be a good idea to see what people would think about doing a sportive on closed roads, allowing people to get up to speeds that perhaps they wouldn't usually get up to and not have the worry of what's around the next corner.
"It would also give people the feeling of what it would be like to be an elite cyclist when the only other people on the road are other cyclists. But in latter years it has also become a safety issue, because putting 5000 people down even a closed singletrack road is just not practical to allow."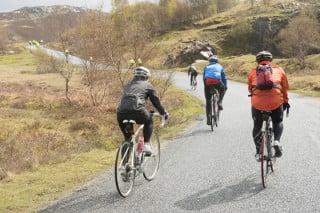 Such growth came from both a boom in cycling and the reputation of an event first sneered at, then imitated and coveted by cyclists nationwide. Behind the Caledonia was a near-fanatical approach, based on organising events including the Virgin Active London Triathlon, but there were still some fresh challenges – including building the Etape singular into a Series of three closed roads events – including Etape Pennines and Etape Mercia- at different levels of difficulty.
Knights described the balancing act between pleasing participants and residents as a challenge, but said the solutions implemented could be used when organising any sportive.
"I don't think you can run any event without putting someone's nose out of joint, whether it's local residents or businesses. It's all about managing expectations and being as precise as you can with the information you give out. We have a dedicated phoneline that allows anyone with a concern to talk to us immediately and usually if there's that person there to talk to, you can resolve it.
"We have a customer services department of two full time staff and that's all they concentrate on. If you can get people to come along one year and enjoy it, as long as they love it the chances are they will come back, so the customer care is absolutely vital and makes sure that not only does the event grow, but that people keep coming back. It does seem like a lot of resource but from a business point of view it makes sense because it's about the customer journey; from signing up online to collecting the finishing medal."
That journey may still be the same today, but the scale of the sportive scene is bigger than ever. With the Caledonia now at capacity and about to lose its title as Britain's biggest sportive, Knights is philosophical.
"For something like Ride London to take place is a huge step forward for the cycling community it's got enough profile now that we as event organisers can put on something of that size and we know it will work. It's amazing the growth in the industry, the growth in the interest and what we can do now – it's a huge departure from what it was when we started Caledonia six years ago."
There are still places available in Etape Caledonia's sibling events; tougher little brother Pennines and forgiving younger sister Mercia. Visit www.etapepennines.co.uk, www.etapemercia.co.uk for more information. Pledge to raise money for Marie Curie Cancer Care and enter for FREE.