---
In October 2012 the team of British Cycling sportive bloggers were invited to the National Cycling Centre to plan their 2013 season, followed by a tour of the facility. What follows is the account of blogger Chris and his tour through the building, including a look at the British Cycling team in action.
For someone like me, who's a bike nut blown away by the absolutely breathtaking performances of our track cyclists during the Olympics but had never even seen a velodrome before, this was like Christmas coming early.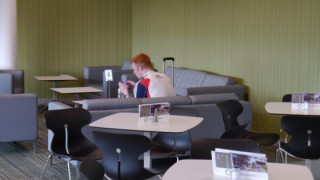 Something that really impressed me was the inclusivity of it all. During the day, we had drinks and food in the unpretentious (that's good, by the way) Velodrome Cafe and we were feet away from gods of the track like Ed Clancy and Jason Kenny. There was no entourage, no fanfare – you felt that you could have gone up to these guys, said "Hi" and they would have engaged you in conversation. I didn't, though – too star-struck, I guess!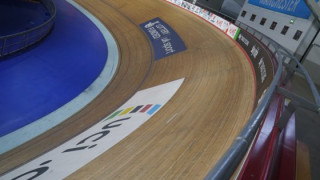 First up was a visit to the track itself. On the TV, you never get a real feel for how steep the banking is at a track like this, and even in a picture you may not get the full effect. I believe it's about 42 degrees - nearly 1:1 - scary!
The track is open to the public at certain times, and since the boom in cycling's popularity, the waiting list is long. There was plenty of activity on the track with a great variety of bikes, styles and speeds.
Beryl Burton is, of course, an absolute legend in British cycling history – a real unsung heroine. There is a cabinet full of her memorabilia: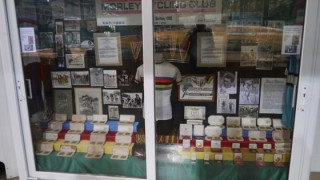 Another legend in British cycling is Reg Harris. Considerably less unsung than Beryl Burton, but there is a memorial to him at HQ: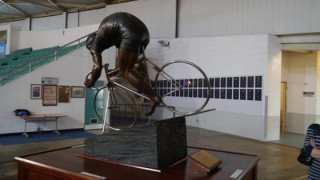 There is a picture gallery featuring cyclists of all genres and countries. I think you know who this is, albeit somewhat younger!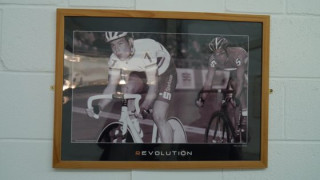 One forgets the remit that British Cycling has – I've always just thought about it in the context of road cycling, but of course cyclocross, mountain biking and BMX come under its aegis also. There is a wonderful purpose-built BMX track on the site with a truly terrifying starting slope: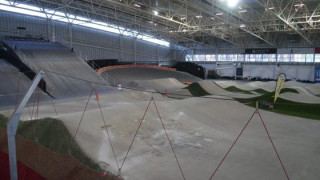 British Cycling also has a remit to communicate cycling generally, and it was nice to see evidence of the fun schoolchildren had had: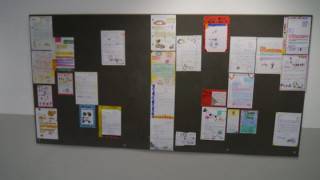 One of Sir Chris Hoy's specialist events is, of course, the keirin, and this is the workshop where the derny bikes are stored: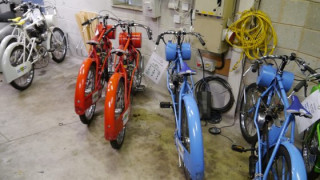 How about this to put the team pursuit into perspective?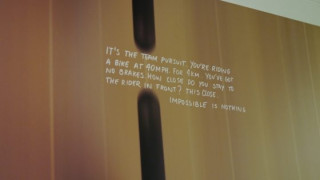 Just a casual list of real cycling megastars: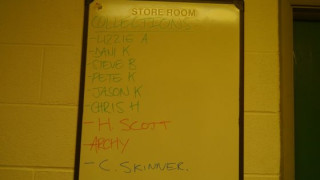 A real treat in the afternoon, as we got to see Messrs Hoy, Kenny and Clancy go through their paces
All in all, an absolutely fascinating day and a real privilege to see behind the scenes at the temple of British Cycling. Our grateful thanks to Ian Phillips, Faye Downey and Eddie Allen for making this happen. A day I will never forget.