Event: 27 May 2012
Location: Middlesbrough Cycle Circuit, Prissick
---
From Sky Ride Local to inclusive club to sportive ride in less than two years. That's the timeline for the Tees Valley Sportive, a brand new event borne out of the Middlesbrough Sky Ride Local group which formed back in 2010.
Above: Tees Valley Riders recce the route of the forthcoming sportive ride.
The regular riders who turned out week in week out for Sky Ride Local group rides quickly formed into a brand new club, the Tees Valley Riders, who on 27 May expand their cycling horizons further with the Tees Valley Sportive, starting and finishing at Middlesbrough's Prissick Cycle Circuit.
The sportive, supported by Middlesbrough Council and British Cycling comprises three events on the day; a Breeze women's only ride of 30 miles, an open event for all at 30 miles and finally a longer 51 mile challenge ride.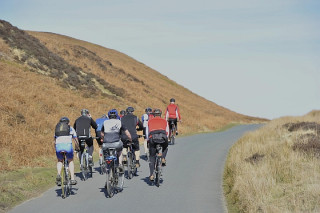 Above: Just a few miles out of the city of Middlesbrough and you're in some fine cycling country.
The sportive will start and finish at the Middlesbrough Cycle Circuit where Dr Bike will be on hand, courtesy of Middlesbrough Cycle Centre, to check participants' bikes prior to setting off on the challenge rides.
The routes quickly take riders out into the wonderful countryside that surrounds Middlesbrough and participants will be quickly enjoying quiet country lanes before heading back to the Middlesbrough Cycle Circuit for a well earned rest and cuppa! This is an event that offers riders of all abilities the opportunity to challenge themselves without having to enter an event with a killer profile.
Each rider will be issued with a timing chip and will then set off on their chosen route following a clearly defined route. Riders on each of the challenge distances will have the chance to grab a breather and some fuel at a well stocked feed station.