Event: 15 April 2012
Location: Bewl Water, Kent
Report: Kent Velo Girls
---
The second Kent Velo Girls sportive took place on Sunday 15 April. The day fortunately remained dry but a biting wind made the lumpy routes more challenging than some expected.
Above: A sea of pink at the start of the event

The sportive is designed both to encourage novices to take part in events and to offer a challenge for more experienced riders. With rides at 20, 40 and 60 miles on offer, it seemed to tick all the boxes. Many riders had assumed that it would be a "tame, girly" affair and were surprised to find that there was a lot of climbing! In a girly way though, the views and countryside generally were particularly stunning. One participant said: "Just a quick thank you to everyone involved in organising this fantastic event, which was great fun! I will never under-estimate a Kent Velo Girls sportive again - those hills were murder!"
A third of participants on the day were men, many demonstrating that the wearing of pink was not beneath them, all entering into the spirit and wearing something pink- interpretations were varied though! It was lovely to see many experienced male cyclists with a wife or girlfriend who was less experienced, either riding together or participating at different levels.
The feed stops were manned by members of the Kent Velo Girls, with delicious home-made cakes and brownies, which helped riders keep their strength up on the way round the course. At the finish riders were treated to hot soup and rolls, and a cup of tea, all as part of the entry fee.
There was a raffle in aid of Breast Cancer Campaign, with 35 cycling related goodies, including a Specialized BG bike fit from Wildside in Tunbridge Wells, who also provided roadside rescue mechanical support to the riders and were saviours to a few unfortunates. Overall the event raised £1200 for Breast Cancer Campaign.
More Photos: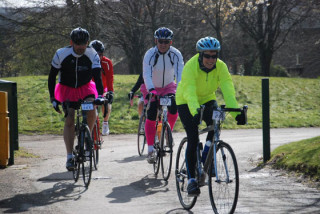 Above: Some of the male riders getting into the spirit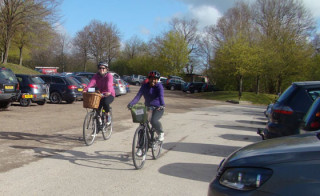 Above: Riders enjoying a dry but windy day in Kent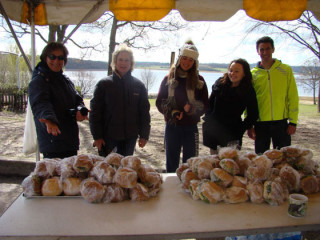 Above: One of the much-needed feed stops manned by the Kent Velo Girls