Location: Long Sutton, Somerset
Event: 9 June 2013
Report: Ben Goddard/Snowdon Sports
---
Rob Yeatman (Dream Cycling) won the John Andrews Memorial after he sprinted past his two breakaway companions to claim victory in Sunday's race at Long Sutton.
On a perfect morning 65 riders started the 65 mile race which included 12 undulating laps around the Somerset countryside.
On the first lap Luke Cornish (West Wales CRT) and Michael Leech (Team Tor 2000) escaped the bunch and built up a 30 second lead until they were brought back in on the third lap.
Yeatman, 19, from Chipping Norton escaped with Sam Humphrey (VC St Raphael) and Oscar Huthchings (University of Exeter CC) on the sixth lap with over 30 miles to go.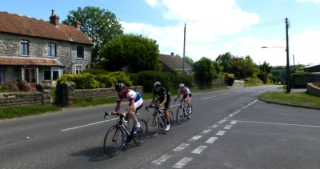 The three riders worked together and built up a maximum lead of two minutes before sprinting out the victory.
Yeatman took the win by three bike lengths over Humphrey in second and Hutchings in third with Toby Parnell (Cambridge CC) took forth 30 seconds in front of the bunch gallop.
It was Yeatman's first road win of the season but he has shown good form finishing fourth at the Central Regional Road Race Championship three weeks ago.
Speaking after the race, Yeatman said: "The race went really well for me I got into the winning break and we all worked well together to build up the gap.
"The closing stages were really tough as there was a strong wind which didn't help us, behind my team mates did a good job of marking any attack that came after us.
"It's nice to get my first win, I was second wheel coming into the last corner with a kilometre to go and I just held onto it until 200 metres to go when I jumped and luckily nobody came around me.
"It is the best season I have ever had and I am aiming for my first category licence, I am heading to the Ras de Cymru next which will be a tough few days of racing."

Results:
1 Rob Yeatman (Dream Cycling)
2 Sam Humphrey (VC St Raphael)
3 Oscar Hutchings (University of Exeter CC)
4 Toby Parnell (Cambridge CC)
5 Bevan Humphreys (Urban-Cyclery RT)
6 Mark Perry (Dream Cycling)
7 John Fitpatrick (Abergavenny RC)
8 John Russell (Strada Cycles)
9 Scott Leakey (Performance Cycles)
10 Josh Gray (Team Tor 2000)
11 Luke Cornish (West Wales CRT)
12 Andrew Feather (Exeter Whls)
13 Ian Fensome (Exeter Whls)
14 Daniel McKimm (Dream Cycling)
15 Daniel Marshall (Bristol Cycling Dev Squad)

Please credit www.britishcycling.org.uk and link back if you use any of our race results.
---
British Cycling would like to thank the organising team, officials and everyone else who helped promote this event. Our sport could not exist without the hundreds of people, many of them unpaid volunteers, who put in many hours of hard work running events, activities and clubs.