Location: Weaverham, Cheshire
Event: 9 June 2013
Report: Ben Goddard/Snowdon Sports
---
Giles Pidcock (Chevin Cycles) took advantage of a shortened race to sprint to his first win of the season in the John Boote Memorial on Sunday.
The race set out to be 13 laps of a 7.7km circuit making a total of 67 miles but had to be shortened due to traffic problems heading to Oulton Park for a motor racing event.
The race set of at a high tempo and three riders escaped from the gun including Mike Jones (Paramount CRT) which got a gap of around a minute with several riders jumping across the gap.
Pidcock, 46 and from Leeds, was the last man to ride across to the nine-man winning break which was established after six laps of the 14 lap, 67-mile race.
With traffic heading to Oulton Park blocking the race cars, the race was cut short by three laps and the riders came around unexpectedly to the bell lap.
This resulted in a frantic final lap and a sprint up the final climb between the breakaway which Pidcock clinched ahead of Mike Jones (Paramount CRT) in second and Elliot Jones (Paramount CRT) in third.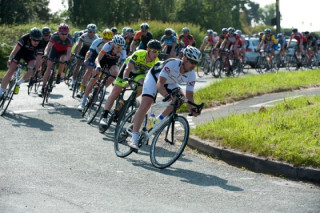 Speaking after the race, Pidcock said: "Once the break had got established we were really going for it and got a good gap on the bunch.
"When we came around on lap nine we had to ride past traffic including the commissaries cars so the race was cut short.
"This played into my hands as the break would have split had it gone the full distance and when we came to the finishing climb I just nailed it.
"It was nice to win as I have picked up points in every race my big goal is the World Veteran Championships near Ghent, Belgium in August.
"I would like to make a special mention to Mike Jones and John Hopkinson as they were really aggressive during the race."
Results:
1 Giles Pidcock (Chevin Cycles)
2 Mike Jones (Paramount CRT)
3 Elliot Jones (Paramount CRT)
4 John Hopkinson (Aire Valley RT)
5 Jeff Vernon (Birkenhead North End CC)
6 Paul Rennie (Dooleys-Cycles)
7 Matthew Cartlidge (Stone Whls CC)
8 Gareth McGuiness (Energy Cycles)
9 Michael Rowson (Kuota-Spinergy)
10 Steven Fidler (Dave Hinde RT)
11 Michael Harrison (4 Star Racing)
12 Ryan Pike (High on Bikes)
13 Kristian Zentec (Team Leapfrog)
14 Frank Pilkington (Bill Nickson Cycle RT)
15 Alex McNichols (Lune RCC)

The organisers would like to thank Champion Systems and The Edge Cycle works for sponsorship, all the riders for a brilliant race, all the Marshals accredited and Weaver Valley Members.

Please credit www.britishcycling.org.uk and link back if you use any of our race results.
---
British Cycling would like to thank the organising team, officials and everyone else who helped promote this event. Our sport could not exist without the hundreds of people, many of them unpaid volunteers, who put in many hours of hard work running events, activities and clubs.