Event: 25 July 2012
Location: Pinstone Street, Sheffield, South Yorks
| |
---
City Centre Cycle Racing returns to Sheffield on Wednesday evening, with Women's Circuit Race Championships and the final round of the Men's Elite Circuit Series hitting the streets of the South Yorkshire city.
The evening starts with the 2012 Baxi Women's National Circuit Race Championships followed by the climax of the Claremont Elite Circuit Race Series. The Championships will kick off an evening of exciting bike racing in the city that will feature the country's fastest and most talented riders in the Claremont Sheffield Grand Prix.

Last year's Women's Championship was won by the defending champion Hannah Barnes (pictured above at last year's Championships) who out-classed her opposition, riding a very intelligent race in treacherous conditions on the Preston Town Centre circuit. She fought off the strong challenge of Horizon Fitness-Prendas riders Dani King and Hannah Rich to take the coveted striped jersey for the second year running. Can Hannah make it three in a row?
The 19 year old from Towcester, now racing for the Ibis Cycles team, will face tough competition to retain the National Circuit Race Champion's jersey from riders such as current Junior World Road Race Champion Lucy Garner and Matrix Fitness–Prendas' Annabel Simpson who have both shown strong form in the early part of this year.

The Men's race has many potential winners. Local riders, Russell and Dean Downing have been longing to win this race since they were teenagers. Graham Briggs has an unassailable lead in the Elite Circuit Series so is the rider to watch. However, Rapha Condor Sharp's Richard Lang (pictured above) sprung a surprise in the last round at the last round at Beverley, ending the Raleigh GAC domination. All the top teams are represented including Rapha Condor Sharp, Raleigh, Endura, Team IG - Sigma Sport, Metaltek - Scott and Node4-Giodana.
The course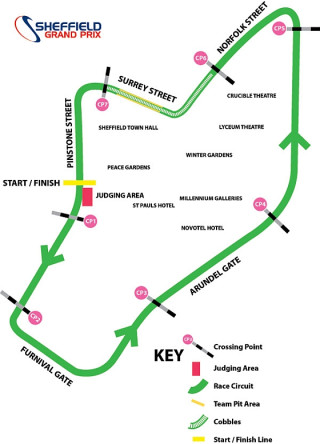 In both races, riders will contest laps of the 1.4km anticlockwise circuit which starts on Pinstone Street and turns left onto Furnival Gate before sweeping left into Arundel Gate. Riders will then turn left at the famous Crucible Theatre to make their way up Norfolk Street before tackling the tricky cobbled section which turns right into Surrey Street and will lead them back onto Pinstone Street.
Event schedule
19:00 Baxi Women's National Circuit Champs Starts
20:05 Women's Presentation - Podium
20:30 Claremont Elite Circuit Series Start
21:40 Mens Elite Presentation - Podium
Start Lists
National Women's Circuit Race Championships
Zoe Armstrong Scott Contessa Epic
Elinor Barker Scott Contessa Epic
Alice Barnes Twenty3c.co.uk Orbea
Hannah Barnes Team Ibis Cycles
Kayleigh Brogan Team Ibis Cycles
Lauren Brown Champion System/Maxgear/Kyklos
Nikola Butler Pedalsport Cycling Club
Adela Carter Team Hope Factory Racing
Eve Dixon Champion System/Maxgear/Kyklos
Lucy Garner Node 4 Giordana Womens Team
Lyndsey Glazier Team Hope Factory Racing
Corrine Hall Node 4 Giordana Womens Team
Eleanor Jones VC St Raphael
Nicola Juniper Eagle RC
Emily Kay Scott Contessa Epic
Sarah King Node 4 Giordana Womens Team
Louise Mahe Mulebar Girl
Laura Massey Abergavenny Road Club
Stephanie May Team Quest - The Bike Shop
Joanne McRae Look Mum No Hands
Nicola Moore Active/CPCycles RT
Laura Murray Velocity 44 Stirling
Tamina Oliver Abergavenny Road Club
Harriet Owen Node 4 Giordana Womens Team
Karen Poole Squadra Donne - Shutt VR/Bikefood
Sarah Reynolds Matrix Fitness - Prendas
Amy Roberts Scott Contessa Epic
Eileen Roe Team Ibis Cycles
Penny Rowson Matrix Fitness - Prendas
Hannah Shenton Node 4 Giordana Womens Team
Annabel Simpson Matrix Fitness - Prendas
Nicola Soden Champion System/Maxgear/Kyklos
Joanna Tindley VC St Raphael
Adel Tyson-Bloor VC St Raphael
Hannah Walker Matrix Fitness - Prendas
Jessie Walker Matrix Fitness - Prendas
Nicole Walters Team Hope Factory Racing
Men's Elite Circuit Series
James Allen Sheffrec CC
Mark Baines Spirit Racing Team
Tom Barras Metaltek - Scott
Oliver Beckingsale Endura MTB Racing
Ian Bibby Endura Racing
Will Bjergfelt Cycle Premier - Kovert
Dan Booth Team Hope Factory Racing
Graham Briggs Team Raleigh - GAC
Jamie Burgan Langsett Cycles RT
David Clarke Node4 - Giordana Racing
Steven Clarke WHEELBASE.co.uk/MGD
Jack Clarkson Team Hope Factory Racing
Edward Clemens Spirit Racing Team
David Collins Team Hope Factory Racing
Lewis Craven WHEELBASE.co.uk/MGD
Matt Cronshaw Node4 - Giordana Racing
Dean Downing Rapha Condor Sharp
Russell Downing Endura Racing
Adam Duggleby Sportscover Altura RT
Felix English Rapha Condor Sharp
Tom Fitzpatrick Strada-Sport
Karl Freeman Team Wheelguru
Simon Gaywood Team IG - Sigma Sport
Kit Gilham Herbalife-Leisure Lakes Bikes.com
Liam Glen The Kinesis Morvelo Project
Tony Greenhalgh WHEELBASE.co.uk/MGD
Ben Greenwood Vanillabikes.com
Ben Grenda Rapha Condor Sharp
Andrew Griffiths Team IG - Sigma Sport
Luke Grivell-Mellor Rapha Condor Sharp
James Gullen Metaltek - Scott
Jake Hales Team IG - Sigma Sport
Richard Handley Rapha Condor Sharp
Jordan Hargreaves Team Hope Factory Racing
Andrew Hastings Metaltek - Scott
Matt Higgins Node4 - Giordana Racing
Daniel Holloway Team Raleigh - GAC
Matthew Holmes Team Raleigh - GAC
Simon Holt Team Raleigh - GAC
Tobyn Horton Team Raleigh - GAC
Ben Ives We Love Mountains Racing Team
Jeroen Janssen Team Raleigh - GAC
Alastair Kay Herbalife-Leisure Lakes Bikes.com
Richard Lang Rapha Condor Sharp
Tom Last Team IG - Sigma Sport
Danny Lowthorpe Langsett Cycles RT
Ashley Marshall Aire Valley Racing Team
Simon Maudsley RVO Racing
James McCallum Rapha Condor Sharp
James Millard Team Corley Cycles/Blue
Alex Mitchell We Love Mountains Racing Team
Tom Murray Team IG - Sigma Sport
Jamie Newall Alpha Road Club
Mike Northey Node4 - Giordana Racing
Paul Oldham Team Hope Factory Racing
Evan Oliphant Team Raleigh - GAC
William Penn WHEELBASE.co.uk/MGD
Ashley Proctor Sportscover Altura RT
Jack Pullar WHEELBASE.co.uk/MGD
Stuart Reid WHEELBASE.co.uk/MGD
Simon Richardson Team IG - Sigma Sport
Hugo Robinson XRT - Elmy Cycles
Rico Rogers Node4 - Giordana Racing
Oliver Rossi Rapha Condor Sharp
Jacob Scott Planet X
Jamie Shirlaw Herbalife-Leisure Lakes Bikes.com
Marcel Six Metaltek - Scott
Dave Starkey Fred Williams Cycles
Thomas Stewart RST Racing Team
Liam Stones Team Corley Cycles/Blue
Daniel Storey RST Racing Team
Bernie Sulzberger Team Raleigh - GAC
Grahame Sumner WHEELBASE.co.uk/MGD
Matthew Sumpton RST Racing Team
Harry Tanfield Teamwallis CHH Racing Team
George Tansley Cycle Premier - Kovert
James Thompson Team Hope Factory Racing
Jacob Tipper Teamwallis CHH Racing Team
Dan Whelan Onimpex Bio Racer RT
Joseph White
Ian Wilkinson Endura Racing
Matthew Williams Team Hope Factory Racing
Pete Williams Node4 - Giordana Racing
Simon Wilson Metaltek - Scott
Jake Womersley Sportscover Altura RT
Oliver Wood Sportscover Altura RT