---
Following another dominant performance from Team Raleigh GAC at Colne on Wednesday night, the opposition must be wondering what they have to do to break the stranglehold of team which has dominated the series thus far.
Raleigh GAC's Graham Briggs has already secured the overall series win with his 2nd place in Colne, however the other podium positions are still up for grabs as the series moves swiftly on to Beverley for the East Yorkshire Classic on Friday 20 July.
Briggs will have fond memories of Beverley; the Doncaster based rider winning the National Circuit Championships here in 2011, riding with then teammate and 2011 Circuit Series Champion Dean Downing as part of the Rapha Condor Sharp.
Downing will have a fight on his hands to keep hold of his second place in the competition, with just three points separating him from Raleigh's Tobyn Horton and Node4 Giordana's Rico Rogers.
Route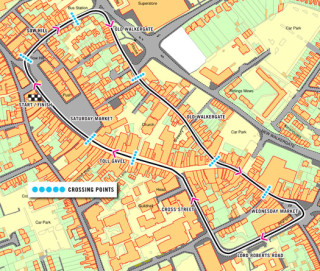 The town of Beverley is no stranger to cycle racing, having staged numerous circuit series and national championships events in the past. Riders will face over 70 minutes of the town centre course, which starts and finishes in the Saturday Market, turning right onto Sow Hill before the long winding stretch of Old Walkergate. Entering the Wednesday Market, riders negotiate the tight right hander in Lord Robert's Road before a 90 degree right-hander in Cross Street. A dink left onto Toll Gavel completes the lap back into the Saturday Market.
Riders and spectators alike will be hoping for some dry weather for the night's racing, with the town's notorious cobbled sections to negotiate.
Action begins at 6:30pm with the 40 minute Keith Jordan Memorial Support Race for 3rd and 4th cat riders before the Elite action commences at 19:45 with the Elite Circuit Series race.
For full race details go to the event website here: http://www.eastyorkshireclassic.co.uk/home
Event Schedule
18:20 - Support Riders line up outside Burtons for Commissaries' briefing.
18.30 - Keith Jordan Memorial Support Race – 40 minutes + 3 laps
19:20 - Elite Circuit race - Riders access to circuit + warm up.
19:35 - Riders line up outside Burtons for commissaries' briefing.
19.40 - Elite Series Circuit Race riders presented at line
19.45 - Elite Series Circuit Race - Race start - 70minutes + 5 laps
20:55 - Elite Circuit race finishes.
21.05 - Elite Series Circuit Race presentations.
Elite Circuit Series Standings after Round 5 (Colne)
1. Graham Briggs Team Raleigh - GAC 320
2. Dean Downing Rapha Condor Sharp 150
3. Tobyn Horton Team Raleigh - GAC 149
4. Rico Rogers Node4 - Giordana 148
5. James McCallum Rapha Condor Sharp 112
6. Matt Cronshaw Node4 - Giordana 96
7. Daniel Holloway Team Raleigh - GAC 81
8. Matthew Jones Team Corley Cycles 80
9. Marcel Six Metaltek - Scott 79
10. Dale Appleby Metaltek - Scott 65
Start List – Elite Race
1 Graham Briggs Team Raleigh - GAC Elite
2 Russell Hampton Team Raleigh - GAC Elite
3 Daniel Holloway Team Raleigh - GAC Elite
4 Tobyn Horton Team Raleigh - GAC Elite
5 Evan Oliphant Team Raleigh - GAC Elite
6 Bernie Sulzberger Team Raleigh - GAC Elite
7 George Atkins 100% ME Elite
8 Owain Doull 100% ME Elite
9 Samuel Harrison 100% ME Elite
10 Joseph Kelly 100% ME Elite
11 Thomas Moses 100% ME Elite
12 Alistair Slater 100% ME Elite
13 Simon Yates 100% ME Elite
14 Ashley Marshall Aire Valley Racing Team 2nd
15 Grant Ferguson Boardman Elite Elite
16 Simon West Cyclesense 2nd
17 Robert Watson Dirtwheels Cycles 1st
18 Dale Appleby Metaltek - Scott Elite
19 Tom Barras Metaltek - Scott Elite
20 James Gullen Metaltek - Scott 1st
21 Marcel Six Metaltek - Scott Elite
22 Simon Wilson Metaltek - Scott Elite
23 Andy Hastings Metaltek Scott Elite
24 Christopher Whorrall Mg Kvis Norda Pacific 3rd
25 David Clarke Node4 - Giordana Racing Elite
26 Matt Cronshaw Node4 - Giordana Racing Elite
27 Matt Higgins Node4 - Giordana Racing Elite
28 Mike Northey Node4 - Giordana Racing x
29 Rico Rogers Node4 - Giordana Racing x
30 Pete Williams Node4 - Giordana Racing Elite
31 Dean Downing Rapha Condor Sharp Elite
32 Felix English Rapha Condor Sharp 1st
33 Ben Grenda Rapha Condor Sharp Elite
34 Luke Grivell-Mellor Rapha Condor Sharp 1st
35 Richard Handley Rapha Condor Sharp Elite
36 Richard Lang Rapha Condor Sharp Elite
37 James McCallum Rapha Condor Sharp Elite
38 Oliver Rossi Rapha Condor Sharp Elite
39 Thomas Stewart RST Racing Team 1st
40 Daniel Storey RST Racing Team 1st
41 Matthew Sumpton RST Racing Team 1st
42 Ashley Brown Sportscover Altura RT 2nd
43 Adam Duggleby Sportscover Altura RT Elite
44 Duncan Moralee Sportscover Altura RT 1st
45 Christopher Daddy Squadra RT 1st
46 Matthew Jones Team Corley Cycles/Blue Elite
47 Jamie Newall Team Corley Cycles/Blue 2nd
48 Liam Stones Team Corley Cycles/Blue 1st
49 James Millard Team Corley Cycles/Cervelo/Alpha R.C 2nd
50 Simon Gaywood Team IG - Sigma Sport 1st
51 Jake Hales Team IG - Sigma Sport Elite
52 Tom Murray Team IG - Sigma Sport Elite
53 Simon Richardson Team IG - Sigma Sport Elite
54 Wouter Sybrandy Team IG - Sigma Sport Elite
55 Thomas Last Team IG Sigma Sport 1st
56 Liam Holohan Team Raleigh Elite
57 James Sparling Team Raleigh 1st
58 Jacob Tipper Teamwallis CHH Racing Team Elite
59 Richard Meadows Velo29-OTR-Vankru Elite
60 Nick Coupland We love Mountains 2nd
61 Ben Ives We Love Mountains Racing Team 1st
62 Alex Mitchell We Love Mountains Racing Team 2nd
63 Lewis Craven Wheelbase.co.uk/Cannondale 2nd
64 William Penn WHEELBASE.co.uk/MGD 1st
65 Jack Pullar WHEELBASE.co.uk/MGD 1st
66 Stuart Reid WHEELBASE.co.uk/MGD Elite
67 David Shackleton Wilsons Wheels Race Team 2nd
68 Jack Adams Zappi's Cycling Club 1st
69 Joseph White 2nd