---
Bradley Wiggins' controlling performance in yesterday's tough alpine stage to La Toussuire was in many ways just as impressive as his crushing victory in the 41km time trial effort on Monday, which landed him the yellow jersey after a week of being the bridesmaid to Fabien Cancellara.
Above: Wiggins on the bike - inscrutable and in control. (Image: Press Association)

Although Thursday's performance wasn't the iron fist of Wiggins' contre la montre effort between Arc-et-Senans and Besançon, the velvet glove was very much in the evidence as Wiggins and his uber lieutenant Chris Froome staved off a flurry of attacks on stage eleven's four categorised climbs.
A number of things impressed; Team Sky's ability to set an excruciating tempo was impressive in itself, yet almost academic; Wiggins and his teammates poker-faced on the front of that select group including 2011 champion Cadel Evans and Liquigas' de facto leader Vicenzo Nibali. What was more impressive and, more importantly, may prove to have a greater bearing on the outcome in Paris, was Wiggins and his team's composure under fire, on the Col de la Madelaine and the 18km climb to La Toussuire.
If Wiggins was poker faced on stage 11, his rival Cadel Evans had the appearance of a roulette player, chancing it all with a vicious attack on the Croix de Fer. Italian GC contender Nibali showed his hand later on the slopes of the final climb, attacking twice and causing panic in the hearts of British fans. Yet in both instances, Wiggins stayed calm, almost inscrutable; he and his teammates upped the pace almost imperceptibly and within minutes, the threat was neutralised.
The history of the Tour is littered with winners who've used various formulae for success in Paris. A Tour winner is either a great time triallist who can control things in the mountains, a brilliant climber who can put it a decent shift against the clock, or in rare cases, both. Jacques Anquetil, the first man to win five Tours de France, was akin to Wiggins in his legendary time trialling ability and a knack of making the books balance in the hills.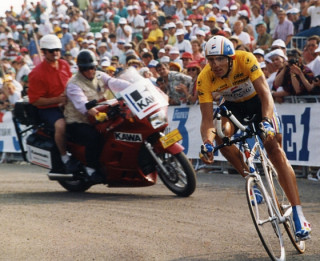 Above: Five times Tour de France winner Miguel Indurain, in TT action in the 1993 Tour. (Image: Wikipedia Commons)
Miguel Indurain, 'Big Mig', was another who won his five Tours against the clock. The 6 foot 2 inch Spaniard won five consecutive Tours from 1991 to 1995, the first man to achieve this feat; the quiet, unassuming man from Villava laying the foundations of victory alone against the clock then cementing his wins with solid 'tempo' performances in the mountains.
Any GC contender has to be able to climb, and 80kg Mig had a physiological gift that belied his powerhouse physique. Yet Big Mig, like 'Big Wig', was not a man to stand up and dance on the pedals to peg back the mountain goats of his day. The two men's physiques may differ markedly but their reaction to danger in the mountains is the same; a notch or two higher on the cruise control and the damage is limited.
But on yesterday's stage, Wiggins and Froome went way beyond damage limitation – under extreme pressure they proved, for a day at least, that Nibali's attacking threat could be contained and that, more importantly, Evans could be played and beaten at his own game. The BMC rider won his 2011 Tour by defending attack after attack in the mountains, never leaping out of the saddle to counter a threat; 'diesel power' as many a commentator put it.
It is therefore perhaps ironic that Evan's move on the Croix de Fer owed more to the attacks of Contador, Andy Schleck, Marco Pantani and a dozen grimpeurs before him; yet in the end it proved, on stage 11, to be the Australian's undoing. Only time will tell if this remains the case as the caravan trundles on to Paris.