---
Bernard Sulzberger sprints to win in Stoke-on-Trent, while Rapha Condor Sharp take Tommy Godwin Team Time Trial.
Above: Endura are 2012 Halfords Tour Series champions.

Endura Racing have been crowned The Halfords Tour Series Champions, the fourth different team to take the end-of-Series honours in the unique team based Series that reached the end of its fourth season in Stoke-on-Trent on Thursday.
The Potteries played host to a spectacular Grand Final, also incorporating the women's Johnson Health Tech Grand Prix Series event, that included the first ever Team Time Trial round of the Series, named in honour of Stoke-on-Trent's Tommy Godwin.
On the night honours in the two events went to outdoing Champions Rapha Condor Sharp in the Tommy Godwin Team Time Trial, and to local squad Node4 – Giordana Racing in the evening's circuit race, while Team Raleigh – GAC's Bernard Sulzberger finished an impressive season by taking the individual win, plus a sweep of the Boardman Bikes Sprint honours on offer.
Endura Racing confirmed the news that had been along time in coming that they were the champions of The Halfords Tour Series thanks to their third spot in the Tommy Godwin Team Time Trial. The Scottish sponsored squad had to wait until after the evening's final round though to be coronated, and couldn't quite manage to go out with a win.
The Julian Winn managed team however do finish with an enviable record of seven wins from twelve, showing just why they ended up champions in the unique, team based Series, 17 points clear of 2011 Champions Rapha Condor Sharp in second.
The 'Men in Black' managed to avoid a whitewash in 2012 by taking the honours in the Tommy Godwin Team Time Trial, which got the professional action underway in Stoke-on-Trent following school and business races.
Rapha Condor Sharp ended up top of the timesheets posting a 3.09.28, just half a second quicker than Team UK Youth in second. Endura's third gave them the title, while the surprise was Team Raleigh – GAC's poor performance against the clock down in seventh.
Come the Series closing race, attacks came and went until a six man move containing a distinctly Antipodean flavour went clear, establishing a lead that would never be vanquished. Joining Stephen Adams (Cycle Premier – Kovert) and Yanto Barker (Team UK Youth) was Kiwi Mike Northey (Node4 – Giordana Racing) and a trio of Australians in Richard Lang (Rapha Condor Sharp), Bernard Sulzberger (Team Raleigh – GAC) and double round winner Zak Dempster (Endura Racing).
The six worked together until the penultimate lap, when short of the line Sulzberger surged clear with Northey the only rider to respond. The yellow jersey clad rider hit the line first when it counted, with Northey in second and Lang edging the sprint for third some distance behind.
Above: The impressive Sulzberger, riding for Raleigh GAC, took victory in the main race.
A second group of six riders fought out the next spots, with Ian Wilkinson leading home his group ahead of Matt Cronshaw. The move that mattered however came behind, with Torquay winner Marcin Bialoblocki jumping away from the peloton on the final lap to take what would be, for Node4 – Giordana Racing, a lucky 13th.
The Pole's performance put the Stone based team top, ahead of Team Raleigh – GAC and Champions Endura Racing.
"It's really satisfying to get this win which was important for every UK team so it's great for us to win the Series and wrap it up in such convincing fashion," said Zak Dempster, who won the Canary Wharf and Woking events. "Incredibly satisfying for everyone involved, not just for the five guys here tonight, but the others who helped out, Erick [Rowsell], Dean [Windsor], and Russell [Downing].
"I hope for Jim [McFarlane] at Endura it's a good repayment for his great investment in cycling. There hasn't been a British Continental team do so much in a season as we have done so far and it's been great to be part of that and for me personally, it feels really good.
"I knew I would be watched and went away early and attacked the break to show I wasn't there to muck around and I spent a few laps on my own. On this course, with the uphill and downhill, you could really smash the hill so I think I should have gone earlier on my own or tried to do what Bernie [Sulzberger] did. Fair play to Bernie though, he's a quality bike rider and deserved to win a round of the series as he's been a big part of the series in the sprints."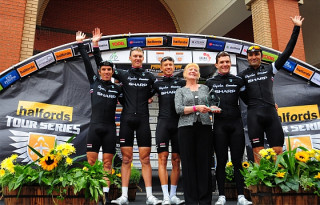 Above: Rapha-Condor-Sharp was the slickest outfit in the Tommy Godwin Team Time Trial.
Sulzberger added the individual win to the Boardman Bikes Sprints on the night, plus the overall of that contest that he had wrapped up one round earlier, eventually finishing with nearly double the points of second placed man Marcel Six of Metaltek Scott.
The result that matters though in The Halfords Tour Series is the team standings, with Endura Racing having led the way in the five Halfords orange leaders jerseys since Round One in Kirkcaldy in early May.
"It's fantastic to win. Winning the Halfords Tour Series has been one of the projects for this year, a big target for us and we made no secret of that," said Sporting Director Julian Winn. "We did all we could with staff and riders to win so it's mission accomplished. That means a lot and everyone has done a good job. I'd like to have finished the Series as we started and we went out all guns blazing but it wasn't to be.
"The plan for the Series was to keep the same five riders right from the word go. A month before the Series, the team was decided on and I got the riders to do some stage races in preparation for the series and have the riders talking to each other; creating a "Halfords Tour Series group". Unfortunately, we lost Dean [Windsor] and Zak wouldn't be here if Dean hadn't crashed. But, we had a perfect replacement for Dean with Zak and he knew he was going to be called up as a first reserve. Zak had Halfords Tour Series experience so he made the ideal replacement."
Highlights of the Grand Final of The Halfords Tour Series from Stoke-on-Trent will be shown ITV4 at 10pm on Friday 15th June. A repeat will be aired at 9.40am on Saturday 16th June, while highlights of all of The Halfords Tour Series programmes are available to watch online via the ITV Player for 30 days after transmission
Top-class cycling returns to Stoke-on-Trent this September with Stage Five of The Tour of Britain on Thursday 13th September. Amateur cyclists can take on the challenge of the route themselves in The Tour Ride Stoke-on-Trent on Sunday 23rd September, to find our more and to register for your challenge head to www.tourride.co.uk
The Halfords Tour Series, Grand Final, Stoke-on-Trent, Provisional Results
Grand Final Tommy Godwin Team Time Trial Result
1) Rapha Condor Sharp, 3.09.28
2) Team UK Youth, 3.09.66
3) Endura Racing, 3.10.81
4) Node4 - Giordana Racing, 3.12.49
5) Team IG - Sigma Sport, 3.14.03
6) Metaltek Scott, 3.14.62
7) Team Raleigh - GAC, 3.15.17
8) Cycle Premier - Kovert, 3.19.37
9) Herabalife LeisureLakesBikes, 3.21.78
10) Team Hope Factory Racing, 3.25.08
Overall Team Standings, post-Grand Final Tommy Godwin Team Time Trial
1) Endura Racing, 102pts
2) Rapha Condor Sharp, 87pts
3) Team UK Youth, 85pts
4) Team Raleigh - GAC, 80pts
5) Node4 - Giordana Racing, 78pts
6) Cycle Premier - Kovert, 48pts
7) Team IG - Sigma Sport, 42pts
8) Metaltek Scott, 38pts
9) Herbalife LeisureLakesBikes, 24pts
10) Team Hope Factory Racing, 20pts
Grand Final Individual Result
1) Bernard Sulzberger, Team Raleigh - GAC
2) Mike Northey, Node4 - Giordana Racing
3) Zak Dempster, Endura Racing
4) Rich Lang, Rapha Condor Sharp
5) Yanto Barker, Team UK Youth
6) Stephen Adams, Cycle Premier - Kovert
7) Ian Wilkinson, Endura Racing
8) Matt Cronshaw, Node4 - Giordana Racing
9) Tobyn Horton, Team Raleigh - GAC
10) Kristian House, Rapha Condor Sharp
Grand Final Team Result
1) Node4 - Giordana Racing
2) Team Raleigh - GAC
3) Endura Racing
4) Team UK Youth
5) Rapha Condor Sharp
6) Cycle Premier - Kovert
7) Metaltek Scott
8) Team IG - Sigma Sport
9) Herbalife LeisureLakesBikes
10) Team Hope Factory Racing
Final Overall Team Standings
1) Endura Racing, 110pts
2) Rapha Condor Sharp, 93pts
3) Team UK Youth, 92pts
4) Team Raleigh - GAC, 89pts
5) Node4 - Giordana Racing, 88pts
6) Cycle Premier - Kovert, 53pts
7) Team IG - Sigma Sport, 45pts
8) Metaltek Scott, 42pts
9) Herbalife LeisureLikesBikes, 26pts
10) Team Hope Factory, 21pts
Boardman Bikes Sprints winner Stoke-on-Trent: Bernard Sulzberger (Team Raleigh - GAC)
Final Boardman Bikes Sprints standings
1) Bernard Sulzberger, Team Raleigh - GAC, 108pts
2) Marcel Six, Metaltek Scott, 56pts
3) Kristian House, Rapha Condor Sharp, 38pts
4) Yanto Barker, Team UK Youth, 30pts
5) Zak Dempster, Endura Racing, 29pts