---
Lee Desborough showed a clean pair of wheels to his breakaway rivals at the end of the 65-mile Ipswich BC Spring Scramble near Gosbeck Village Hall on Sunday.
The 41-year-old from Soham in Cambridgeshire (pictured above, left), who rides for St Ives CC, was part of a seven rider break which went clear and established a gap of around 40 seconds.
The leaders did just enough to hold the bunch off, although the lead dropped a little as they began steeling themselves for the final lap and jostling for position.
Desborough, who last won this event three years ago, led out the sprint and held off his rivals to take the win, while Glendene CC's Dan Snow was second and Wayne Maguire (PCH UK RT) third.


What they said

"Early in the race a few attacks went but nothing stuck," said winner Lee Desborough. "I sat in and watched, until a Colchester Rovers guy attacked and I went with him and we got a small gap that we continued working on.
"Another five guys came across about half a lap later, and we kept it together. On the last lap we started mucking around and looking around over our shoulders, and the lead came down as the bunch got us down to about 30 seconds.
"The last half mile snakes around the roads, and there's a sharp right hand turn before you start climbing the final 600 metres to the finish.
"It's a big ring job, and we were watching each other up the climb. I just went for it, led out and held them off.
"It's great to get a win. I don't do a lot of races because I've got a family so I can't put the time in. I concentrate on doing just a few road races for half the season, then do time trials for the rest of the season."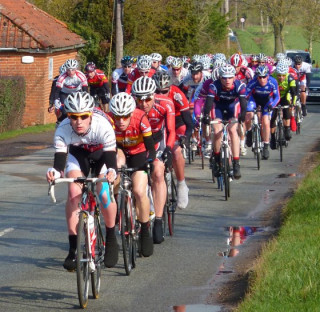 Results:
1 Lee Desborough (St Ives CC)
2 Dan Snow (Glendene)
3 Wayne Maguire (PCH UK Racing Team)
4 Oliver Glackin (East London Velo)
5 Russell Ford (Glade CC)
6 Basil Moss (Cambridge CC)
7 Jonathan Shuster (XRT Elmy Cycles)
8 Tom Fitzpatrick (Iceni Velo)
9 Lee Rowe (Finchley RT)
10 Tom Stephenson (Colchester Rovers)
11 Josh Green (Glendene)
12 Matthew Barlow (Essex Roads)
13 Vince Divine (Finchley RT)
14 Nathan Miller (XRT Elmy Cycles)
15 Daniel Young (Glendene)
---
British Cycling would like to thank the organising team, officials and everyone else who helped promote this event. Our sport could not exist without the hundreds of people, many of them unpaid volunteers, who put in many hours of hard work running events, activities and clubs.