---
Image: Wayne Lingard
The South West's road team Primal Europe recently launched at the Mountbatten Water sports centre in Plymouth Devon. The team principally sponsored by Primal Europe Cycling apparel company had a successful 2011 with over 25 wins across the country.
Judith Smith European Sales Director said "we were so proud of the team in 2011, not only did they win lots of races but inspired the development of a totally new cycling club."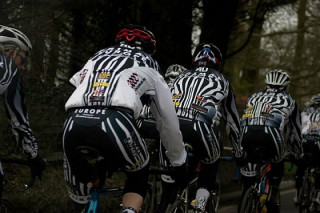 Above: The day started with a very brisk ride across the South Hams with all of the riders looking particularly fit perhaps down to the mild winter? (Image: Jamie Warburton)

Finally the assembled audience got to see some unusual training tips from their youngest rider Tom Stockdale (below) before heading in for some fine pasta kindly provided by the Mountbatten water sports centre.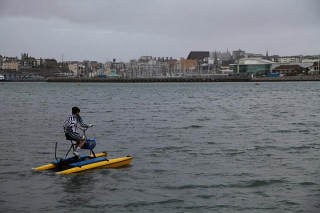 Image: Wayne Lingard
Riders for 2012:
James Williams (Elite) - Team Manager, Winner Green jersey at Tor2000 circuit series, James Smith (Elite) - Winner Kalas Two Day stage race, Martin Smith (Elite) - National Vets Champion 2011, Adam Bright (Elite) Winner Totnes Circuit race, Wayne Coombs - 1st Cat, Robert Willcocks – 1st Cat, Phil Borrett – 1st Cat, Tom Stockdale – 1st Cat, Peter Haworth – 2nd Cat, Richard Oram – 2nd Cat, Tom Stockdale 1st Cat
Staff and Management for 2012:
Judith Smith – Team Soigneur, Alex King – Team Soigneur, Darren Stephens – Team Physio
Sponsors for 2012
www.primaleurope.com – Custom Cycling Apparel
www.rutrainingtoday.co.uk – Administration & race day support
www.sunwise.co.uk – Sunglasses
www.cnpprofessional.co.uk – Nutrition supplier
www.mjrmotorhomes.co.uk – Team Motorhome
www.windwave.co.uk – Suppliers of team bikes
www.colnago.com – Team bikes
www.c-originals-sports.com – Helmet suppliers
www.rideplymouth.co.uk – Professional bike fitting service
www.darrenstephens.co.uk – Team Physiotherapist
You can find out more about the team online or join their associated cycling club at www.rutrainingtoday.co.uk , on follow them on Twitter (@rutrainingtoday) and Face Book (rutrainingtoday.co.uk).