---
Every group of cyclists will have a cycling "know-it-all" in their midst. It won't surprise you to learn that at British Cycling we have quite a few. One in particular has turned it into something of an art form. He rejoices in the nickname of 'Cafe Racer'. He's been bothering us for some time to "do something for the website" and with Christmas always a bit of a slow time, we decided to let 'Cafe Racer' loose and sent him to Rossington near Doncaster for a bike ride and interview with British Cycling Elite Circuit Champion Graham Briggs. On the strength of what he came back with, it appears Cafe Racer is as forthright with his questions as he is with his opinions.
Graham tastes the coffee after a steady 2 hour ride with British Cycling.
South Yorkshire is a bit off my patch and I was excited about getting the chance to have a bike ride with professional road rider Graham Briggs and some of his mates around the picturesque lanes of Rossington. This is cycling superstar country: legendary rider Tom Simpson hailed from the neighbouring village of Harworth and Ben Swift and the Downing brothers all live within spitting distance. Even Adam Blyth and Lizzie Armitstead can turn up on the chain-gang, but if recent cafe gossip is true we might not see them today.
Graham Briggs shot to stardom on a summer's evening earlier this year when he won the Elite Circuit Championships in Beverley, taking the title from his team mate Olympian Ed Clancy. Prior to that the 28 year old Rapha Condor Sharp rider seemed content to take on the role of domestique, he was there to help the star riders, always the bridesmaid never the bride. So I was keen to find out what had changed during the season and how he'd managed to beat the best riders in the country and win the coveted British Cycling Elite Circuit title and in the process earn himself the team leader's spot with Team Raleigh for 2012.
It's 9.30 on a chilly December morning and today is a rest day for Graham Briggs, that means 2 hours steady to the cafe, usually my sort of ride. But I'm a bit concerned, I've been stalking him on Twitter for a couple of weeks and discovered he rides in all weathers and seems to get pleasure from turning rest days into 5 hours in the wind and rain with Sky professional Ben Swift and the other lunatics on the local chain gang. As I'm getting my bike out of the car I'm relieved to hear there was a big crash the previous day and most of the riders won't be out because they are visiting Dean Downing laid up at home with a broken collar bone.
So it's me, Graham Briggs and his regular training buddy Robin McKinnon who head out from Rossington on a perfect winter's morning. The sun was shining, hardly a breath of wind, with a touch of frost on the shaded parts of the roads.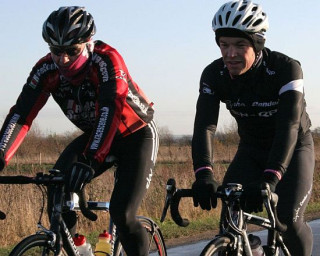 Graham Briggs and training partner Robin McKinnon brave the winter weather in the lanes near Rossington, South Yorkshire.
Graham Briggs is a very friendly person, just the sort of guy you want to spend time riding your bike with. Of course he can ride pretty quickly but within a couple of miles the pace had settled into cafe ride mode. Graham and Robin leading the way and me tucked in the wheels. The countryside around this part of South Yorkshire is flat and as we rolled along Graham explained riding echelons on the chain-gang can be savage with riders quickly spat out of the back. Soon we were heading into the small rural town of Epworth and we headed south towards Owston Ferry. The roads were very quiet, with hardly any traffic. A huge bird feeding off carrion on the roadside glanced up at us "That's a Buzzard, that is" Robin said helpfully, "Loads of them around here". I'd better keep up then, and pressed a bit harder on the pedals.
I'd got some killer questions to ask the champ and decided to try a couple when it was my turn on the front. "Do you feel John Herety (Rapha team boss) has dumped you now that your value has increased with winning the National title"? was my starter for ten.
His look didn't quite say "idiot", but it was a rocky start. Then calmly Graham explained, "John has been a great friend to me and I've really enjoyed being part of his teams, Rapha Condor Sharp is changing direction for 2012 and I was given the chance to take advantage of having the National Championship jersey to get a better contract. Raleigh gave me a good 2 year deal, so no I wasn't dumped, it will prove to be a good move for me. Robin you ride at the front for a bit". Oops I think I upset him, Briggsy drifted to the back and I was joined by Robin, I detected a bit of tension in the air.
Within a few miles I found myself at the back of the little group trying to revise my question strategy when I realised the pace had gradually increased. Up a short climb and I was losing the wheel in front. I think Briggsy was getting his own back for me asking impertinent questions. It was time for a tactic I'd planned in advance. "Guys the top of this rise is perfect for a photo, can we stop"?
My ears were burning as I got Graham and Robin to ride past for the obligatory photo, jumping back on my bike to catch them I was determined to get the interview back on track. Through the village of Westwoodside and the tiny hamlet of Misson I was sure my next question would be OK, I began tentatively "In the book 'More than a dream' author Paul Greenhalgh paints a grim picture of you and Tom Barras racing in Europe, it can be a difficult path to cycling glory with very little chance of success. Considering that, don't you wish you'd listened more at school instead of skiving off to ride your bike"?
There was a brief pause while he considered the question and with a smile answered, "I've always been more about doing practical things, even through school. It bored me to death being locked up in a classroom, so if it hadn't been cycling it would have been something else. During the 2 years I lived and raced in France I learnt a hell of a lot about life and my chosen career so for me it's all been a positive experience."
That's better, he realised I'd done some homework about him and though my questions were a bit off-the-wall he knew I was on his side. Even so I'd better keep it civil and leave the tricky ones about his new Raleigh bike till the end.
We now had a gentle breeze behind us and Graham told me it was 20 minutes to the cafe. Tailwind and only 20 minutes to go, time for me to get back on the front. We chatted about winter training and how he got the motivation to ride every day in all weathers. " It's easy really, this area is full of quality bike riders and we have a well organised routine, I can get a group ride or if my training schedule requires something different I go out alone or with a couple of guys. My coach oversees my training, I email him all my Garmin stats, we talk about my weekly schedule and he advises me on how best to move forward, my coach is also a good friend, I've found that personal approach works best for me".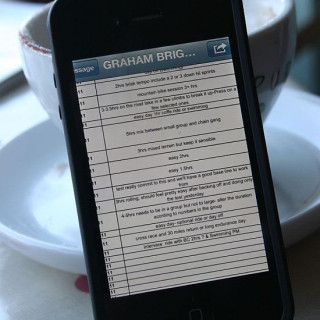 This is what it takes to be a British Champion, email copy of Graham Briggs' weekly winter training programme.
And what about the winter weather?, "So far this winter it's not been too bad, after Christmas I'm off to Lanzarote for a no-frills training camp with a couple of the guys, then after that the big scale team camps kick in".
Our final destination Bawtry and the cafe stop was just two miles away, I started to think about jumping them both for the town sign, deciding against it as I'd spent most of the ride on the back, cycling etiquette prevailed, even though I was sure I would at least get 2nd.
Feast Cafe in Bawtry is a nice little cycling stop, Pro-Cycling mags, big window to watch your pride and joy doesn't get nicked, great coffee and friendly staff. With locals coming in and talking to their cycling hero Graham Briggs, the man was obviously very comfortable in this environment. I asked him if he had any plans beyond professional cycling? "Well I love good quality coffee, and I know all about bikes, so a nice boutique style bike shop and cafe would be perfect for me, but I've got lots of bike races to win first."
As a cafe racer I've often wondered why great little sprinters can't climb, take Mark Cavendish for example. Sat opposite one in the cafe here was my opportunity to get the definitive answer so I jumped in with, "You've got a great sprint and current National Champion to prove it, but your rubbish at climbing, why's that"?
Not even a withering look, he came straight back with a grin and, "I love food, in particular the dessert tray, never a good combination an athlete and cakes. But joking aside I believe genetics determine the style of rider you are and these legs can only go fast for the final 50 metres. But just like Cav I can still climb, I was 7th in the Tour of the Peaks Premier Calendar a few years ago, that's a hilly one to me, I'm just not a specialist climber"
Raleigh have signed Graham Briggs to head up their circuit race squad for 2012 and we talked in the cafe about the rumour that he wore his National Champs jersey as pyjamas, and if Raleigh had made him some new ones. "My wife Sam is to blame for that story, she took a photo of me sleeping in the jersey the night I won it and tweeted it across the whole world, so it's true but I only did it once, honest".
On the 2 mile ride back to Rossington I remembered from my research that he'd listed Table Tennis as one of his hobbies, I'd seen the table in his garage and asked him about it. "I'm very competitive and love sports where you can beat someone else, I've always played table tennis but only for fun, a lot of the riders think they're pretty good, but are deluded. Ben Swift convinced me he was top class until we played, if he's representative of the [ping-pong] skill level at Team Sky then they seriously need me to strengthen the squad."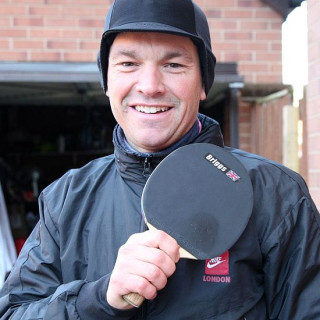 Graham believes Team Sky should sign him up to strengthen their ping-pong squad.
I'd held one question back and it was niggling me. Dare I ask, it was on the subject of his bike for the last two seasons at Rapha, in my view the Condor Leggero is a beautiful piece of kit and I wanted to ask if his Raleigh mount for 2012 would measure up to it. I had in mind what Sean Kelly had said when asked which of the bikes he'd ridden as a pro had been the best, no doubt misquoting him he said something like, "The one my current sponsor supplies". But Graham Briggs has developed lots of confidence this season and came out with a more professional reply than Kelly, "The Condor Leggero is a beautiful machine, before that I rode a Pinarello Prince, another fine bike, Raleigh are known the world over as producers of top quality bikes, everyone looks forward to getting a new bike, and I'm getting a beautiful shiny white one."
He dealt with that final question really well and on the drive back home I reflected how Graham Briggs has developed not only as a bike rider, but also grown in confidence. I first met him as a fresh faced espoir at the Dave Rayner Dinner in 2004, having just returned from his first season racing in France. Since then his palmares shows a steady rise through the ranks. Nearly eight years later and with his first National Champion's jersey in his kit bag his success has come about through sheer hard work and commitment. That all important major win this summer has given his confidence a rocket boost.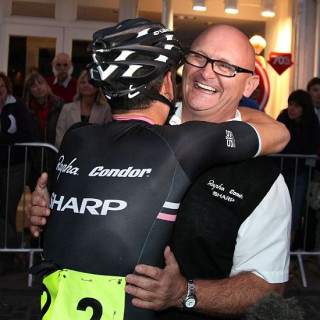 Rapha Condor Sharp team boss John Herety congratulates Graham on winning his National Championship title in Beverley.
I spoke to John Herety his team manager for 4 of the last 5 years and asked for a final quote for the interview: "Graham is a great team player always willing to help his team-mates and has contributed to many of our team victories over the last few years. Yet that selfless willingness is also his biggest weakness. I've told him he needs to be more selfish and when he does I'm convinced he will have a lot more victories to add to his National Criterium Championship win." Listen up Briggsy, the Godfather has spoken.
Cafe Racer thanks Graham Briggs, Robin McKinnon, Chris Green, Eddie White and John Herety for help in arranging and providing information for this feature.