TV interviews: a regular part of Geraint Thomas's life these days

The impact his recent Tour de France campaign has had on his profile must have been very apparent to Team Sky's Geraint Thomas last week when he visited the National Eisteddfod of Wales in Wrexham.
Thomas was there to help promote a new Sportive event, the Etape Cymru, which comes to the area in October. The festival is dedicated to Welsh music and culture, and the tens of thousands of visitors on site were predominantly Welsh and they quickly recognised their fellow countryman as he gave media interviews and talked to local dignitaries and cyclists who were attending the official event launch.
The crowds may have been there primarily for the culture, but they managed to produce paper and pens in no time and soon there was a long line of fans, old and young, waiting for the opportunity to grab an autograph.
Thomas admitted on arriving he was still tired from the Tour and a recent charity ride which had seen him ride the length of Wales on a tandem with his girlfriend (you can donate via Just Giving), but he soaked up the attention with that mixture of charm and dry humour that has become his trademark.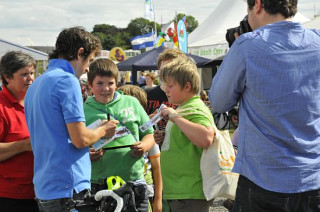 Signed postcards went down well with fans, young and older!
A seemingly endless stream of photo-calls with sponsors, local politicians, the Etape Cymru's organisers and local cyclists were handled without a hint of impatience. Then there was time for yet more autographs and posing for snaps alongside star-struck youngsters, not to mention stammering mums and dads.
After a quick change into cycling kit, Thomas was then on the road with a small group of nervous looking local cyclists for a ride over a short section of the Etape Cymru. I jumped into a car to follow the riders as they wound up though country lanes until we were high above the Vale of Llangollen.
Then it was time for yet more photos, before a swift car ride back to the Eisteddfod for interviews with the cycling press.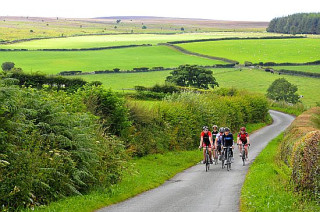 Riding in the hills, sampling the Etape Cymru's route
Mid-way through the long, hot afternoon, I managed to snatch five minutes with Geraint and I began by turning the conversation back to 2007, the first year of the GB Team's under-23 Academy system. I was keen to hear Geraint's analysis of that period and whether it had been good preparation for his subsequent career.
Having visited the first Academy house and seen the first group of riders preparing to go out for a training ride in the Manchester rain, I asked if Geraint remembered those humble beginnings?
"Yes, I remember being in the house in Heaton Mersey with Cav' and Ed [Mark Cavendish and Ed Clancy], going out training, having a laugh."
And what about the racing in those early days - "Yes, we were jetting off to France to race. I remember being a bit overwhelmed by how long the climbs were. It was just a good experience really."
I asked if the coaching he had received had been particularly important, but Geraint, although agreeing, made the point that "it wasn't just the coaching - it was learning to cope with the lifestyle, the cooking and cleaning and looking after yourself and training hard and resting properly. It was the whole package which helped us progress, I think."
Indeed, Geraint's still in regular contact with his coach from the Academy, Rod Ellingworth (now an integral part of the Team Sky set-up), though he is now coached by the GB Cycling Team's Dan Hunt.
As we chat, it soon becomes apparent that Thomas doesn't really separate those early days from his current cycling career. Instead, the under-23 Academy was, it seems, to him, the beginning of a continuum of support, coaching and racing which has taken him from a student's lifestyle in Manchester through to the career of a top pro road rider and Olympic athlete.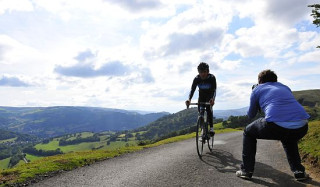 My earliest memory of Thomas is watching him race the National Track Championships as a diminutive Youth rider - fast, competitive and clearly talented. Now, almost 10 years later, he is a model product of a British Cycling athlete development programme which has revolutionised our standing as a cycling nation.
I pointed out to Geraint that he was part of a golden generation, but, smiling at the memories, he reminded me that he and his contemporaries, living in that red-brick house in a dank suburb of Manchester, were actually just the start of a process that seems, if anything, to be gaining momentum: "It's crazy really, when you look back, with Matt Brammeier there as well (Matt's now riding with HTC Columbia), and underneath me were Swifty and Stannard, Pete Kennaugh. It just seems that every year since then we've churned them out!"
Early success on the track has been allowed to blossom into a wider success on the road and beyond and it's the consistency and year-in-year-out commitment to athletes by the National Team and the reciprocal commitment and hard work of the riders that has forged the successes we have now come to expect.
It's reassuring to think that today's successes are built on a system that is still very much alive and thriving and that there is no reason to think that there aren't more Cav's and Geraints in the pipeline.