| | | | | | | | |
| --- | --- | --- | --- | --- | --- | --- | --- |
| | Follow britishcycling.org.uk on | | | | | | |
Transplant Cyclists win Gold, Silver and Bronze at 2011 World Transplant Games
28th June 2011

A team of British transplant cyclists has returned from Gothenberg, Sweden with 10 medals from the 18th World Transplant Games.
The eight riders were coached by team captain Richard Smith, and won four gold, three silver and three bronze medals in the road race and time trial held on 19th and 21st June respectively in Slottskogen Park, Gothenberg.
Richard Smith (mens 40 -50 age category) and Ottlie Morgan (female 18 -30) took double gold in both races with Zoe Dixon (female 40-50) winning two silver medals. Roger Clarke (male 60 -70) took a silver medal in the road race and a bronze in the time trial. Naomi Smith (female 18-3), Diana Higman (female 40-50) both took well deserved and hard won bronze medals in the time trial.
Racing was held over a tough technical circuit with rain greeting the field of over 100 riders from 51 nations for the road race on the 19th June with the same circuit, this time bathed in sunshine, used for the time trial on 21st June. Richard Smith achieved the fastest scratch time overall in the time trial with a time of 8.24 narrowly edging out Erlend Gjerde (30-40) by 4 seconds over the 5k course.
Smith now becomes the first man to hold all the available transplant titles at British, European and World level in both time trial and road race disciplines at the same time on top of being the fastest transplant cyclist in the world irrespective of age.
The GB Tx cycling team in Sweden consisted of 8 people (3 men and 5 woman) who have had of life supporting liver or kidney transplants and included Zoe Dixon, a multi medal winning cyclist, who was awarded an MBE last year to recognise her services to sport.
The team joined over 1,800 transplant recipients taking part to in the Games to raise awareness both here in the UK and internationally, of the need for organ donors, and to celebrate their second chance at life. British riders were selected following their performances at the recent British Transplant Games in Bath in August 2010 were Richard and Zoe won gold medals in both the road race and the time trial events, retaining the British titles held since 2006.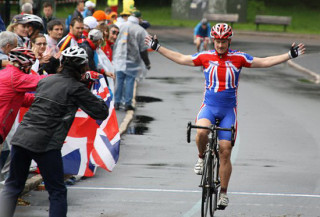 Team captain and coach Smith had a life saving liver transplant over 18 years ago at the Queen Elizabeth Hospital in Birmingham after a very short and acute illness, going into hospital in a coma and being given 48 hours to live. Without this life saving operation he wouldn't have been competing in Sweden.
"Being asked to represent your country is a huge honour, to be captain and coach within the team even more so. The Games have played an important role in helping me live a full and active life giving me an important target, following my successful transplant," explains Richard.
"This event is highly competitive but is also a vital part of the rehabilitation process and gives all competitors a focus, as well being a place to celebrate the gift of life and an opportunity to thank our donors and their families. To bring back 10 medals against over 100 strong international transplant cyclists is a real achievement for the team and testament to the huge amount of hard work they have put into their training and racing."
Supported by the International Olympic Committee, the World Transplant Games, which is held every two years, represent the largest organ donor awareness event in the world, featuring a seven day series of sporting events. The UK Team of 140 athletes joined over 1800 others from some 57 countries across the globe, all of whom have undergone an organ transplant.
Lynne Holt, UK Team Manager for the 2011 World Transplant Games, concludes: "The World Transplant Games aims to raise awareness of the ongoing need for organ donation, demonstrate the benfits to health and fitness following transplantation and encourage people to sign the organ donor register.
"By staging these events people see the direct benefits of organ donation as they witness these amazing athletes triumph over life-threatening conditions. The competitors are truly inspiring. They have already won the race to live, but are now celebrating being alive to race."