| | | | | | | | |
| --- | --- | --- | --- | --- | --- | --- | --- |
| | Follow britishcycling.org.uk on | | | | | | |

British Cycling Secures Ministerial Backing on Parliamentary Bike Ride
Wednesday 15 June 2011
British Cycling's Martin Gibbs (left) chatting to Transport Minister Norman Baker
Representatives from British Cycling joined MPs and key figures in cycling for the annual All Party Parliamentary Bike Ride in London early this morning. The ride promotes cycling in parliamentary circles, but also provides an important lobbying and networking function for the attendees.
British Cycling was represented by the organisation's Policy and Legal Affairs Director Martin Gibbs, plus Olympic champion Ed Clancy and cycling legend Chris Boardman.
Speaking after the ride, Gibbs said:
"Whilst cycling is growing across the board, cycle racing on the roads continues to struggle against archaic highways legislation from the ninteen-fifties. We have been frustrated at the lack of progress on this issue, despite our strenuous efforts to get it addressed. However, I'm happy to say that during the ride I was able to secure a commitment from the Transport Minister Norman Baker MP to speed up the process. It was also good to catch up with Shadow Sport Minister Ian Austin MP who has been working hard on championing our cause in Westminster."
"Cycling is fortunate to have so many good friends in Westminster and Transport Minister Norman Baker has been very helpful to us and its great to see him out on the ride today. The challenge we have is turning his support on updating the 1960 regs into action by his officials which has been proving difficult so I'm grateful for his commitment today to push this on."
If you want to help by adding your voice to the push to have legislation covering racing on the roads updated, check out our story on the Red Tape Challenge.
Also along for the ride was Peter Taylor, former GB Cycling Team head mechanic, who now runs British Cycling's Bike Maintenance Courses. He was there to help promote the launch of Britain's Biggest Bike Fix (part of next week's Bike Week campaign), alongside TV celebrity Dawn Porter.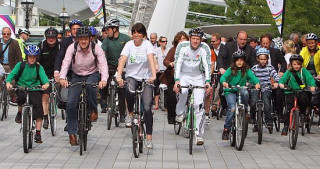 TV celebrity Dawn Porter is flanked by Chris Boardman on her right and Ed Clancy during the All Party Parliamentary Bike Ride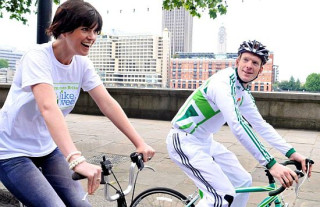 Dawn Porter and Ed Clancy enjoying the ride