Above: Amid the 18,500 people taking part in Sky Ride Manchester, we searched for just a few who summed up Manchester's Sky Ride vibe - and we certainly found them...
18,500 people joined singer Alexandra Burke, multiple world and Olympic champion Sir Chris Hoy, plus Team GB cyclist Matthew Crampton, Olympic Champion Jason Kenny and Team Sky's Pete Kennaugh for Sky Ride Manchester on Sunday 7th August.
Above: Sky Ride Manchester in 101 pictures.
The free event hosted by British Cycling and Sky, in partnership with Manchester City Council, allowed cyclists to ride an 11.5km traffic-free route which took in Sportcity, Deansgate, Manchester Town Hall, The Wheel and Beetham Tower. Participants were treated to a whole host of activities and entertainment, along the route as well as in Castlefield and Sportcity. The event is part of the Sky Ride campaign to get a million more people cycling regularly by 2013.
Above: Riders take over Deansgate, closed to motorised traffic from 10 til 4.
With performances from local buskers, The Hip Hop Shakespeare Company, and dancing Lollipop Ladies, plus the chance to buy on-trend bike accessories, there was something on hand for everyone to enjoy. There was plenty of entertainment for young people, including a Go-Ride racing course where participants tested their racing skills and received tips and advice from pros and British Cycling coaches.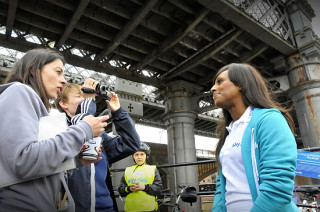 Above: Pop star Alexandra Burke was the centre of attention all day.
Sky Ride Ambassador Alexandra Burke said: "It's fantastic to have been a part of Sky Ride Manchester today and I hope that all the 18,500 people who have taken part have enjoyed it half as much as I have! It's been great to see all the people out on their bikes, having fun. But don't forget it's not just about today - there are loads of others ways you can carry on cycling and all you have to do to find out more is go to goskyride.com. What's more we're still on the hunt for the nation's Perfect Hill to cycle down, so while you're there, make sure you tell us about yours!"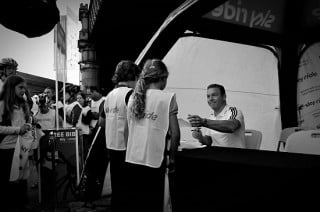 Above: Sir Chris Hoy drew huge crowds wherever he went. Pictured here signing bibs for some young fans.
Councillor Nigel Murphy, Executive Member for the Environment, said: "It's been fantastic to see so many people out on their bikes today for the third year of Sky Ride Manchester despite the rain! Lots of smiling faces and people of all ages out enjoying the city from a different perspective."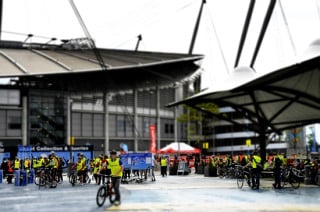 Above: Sportcity at the far end of the route had Go-Ride Racing and plenty of other sports to try out.
Sky Ride Manchester is just one of the many ways local residents can get back on their bikes through this year's Sky Ride campaign. Sky Ride Local Rides are running every Sunday through the summer in and around Manchester which take in everything from the countryside to local sights. There's also the Breeze network from British Cycling - a programme of bike rides and support just for women, plus Bike Maintenance Workshops will be available in Manchester on 19th and 20th August to help everyone keep riding with confidence.