Road To 2012
2011 UCI Mountain Bike World Championships

Homepage: Road To 2012 | British Cycling's Performance Programs Explained
Team GB Mountain Bike Roster | Join Team GB
Mountain Biking: Olympic Qualification Explained | UCI National Rankings
---
British Cycling's Olympic Performance Programme has enjoyed a successful mountain bike World Championships one year out from the Olympic Games, securing over 300 Olympic qualification points and two top-five placings.
The biggest annual mountain bike competition, the World Championships were an opportunity for Britain to cement its hold on two men's and one women's spot in the qualification race for London 2012 and end the international season on a high.
And following a Championship week British Cycling's Olympic Mountain Bike Coach Phil Dixon described as the best ever, Dixon was already looking forward to 2012.
"I think this year has been a real progression for British mountain biking and bring on next season. Today you have several World-class riders in Liam Killeen, Dave Fletcher, Annie Last, Grant Ferguson, Kenta Gallagher - and importantly in that group of international medal winners, we have plugged the women's gap."
Asked to summarise the 2011 season, Dixon was optimistic.
"I'd sum the Programme's season up by saying it has been a rollercoaster - as always in terms of development - but we've been more on the high than the low. In all categories it has been the best season we've ever had and people have got to remember this Programme is growing. I only set up the junior division in 2006 on a part-time basis, before going full time with British Cycling in 2007. Four years on and we have riders coming though who are starting to put cross country on the map, backing up Liam Killeen. I'm really looking forward to next year, but first I think we need to rest and get some plans in place across the board. Let's celebrate a fantastic season and bring on 2012."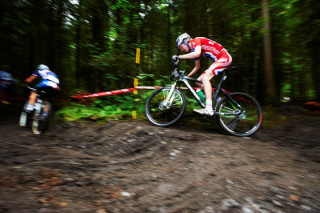 RACE-BY-RACE
The first points scored came in the Team Relay, where Kenta Gallagher, Tracy Moseley, Grant Ferguson and Liam Killeen secured ninth place and 65 points for both men and women's rankings - more than an individual rider would score for winning a UCI C1 competition.
The good news continued as British Cycling Olympic Academy athlete Annie Last won silver in the under-23 women's race, concluding an amazing season which has also featured two top-ten performances in the World Cup and silver at the European Championships - with Dixon fast to issue a statement on the 20 year-olds astonishing progress in 2011.
"Annie is still a development rider, who is getting top ten results in the World Cup, that's fact. There's a lot of head-room in that girl, really a pleasure to work with and at the Worlds she listened, ran a plan and got a silver medal. It was always going to be a tough call to beat Bresset, but I never ruled it out, you don't rule it out at all. It's just going to take time.
"As for the remainder of the year, Annie will be riding for pure enjoyment; in terms of a structured training plan if she wants to race, she can do that but if she doesn't there's no pressure there. I think she will race though, just to look after that good ranking really. That and she enjoys racing her bike - there are some fun races to be had at this time of the season; Roc d'Azur being one of them"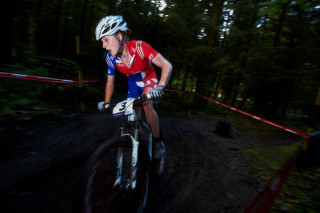 FUTURE PROSPECTS
Development riders also made their mark with 2016 in mind - the Olympic Development Programme's Grant Ferguson finishing fourth junior after leading the race in the early stages and Olympic Academy rider Kenta Gallagher proving his potential by moving from 63rd on the start line into the top-twenty, before a crash and broken shoe slowed his progress to finish 26th - a ride Dixon picked out as one of his Championship favourites.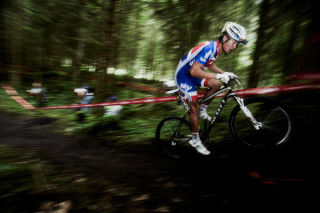 "I think that ride was fantastic. He passed over forty riders, one thing you can say about Kenta is that he has learned a lot this year and his performances in the last six months of the year compared to the first six months, you can see him getting better and better.
"I think Grant learned a lot of lessons by finishing fourth in his race, a good end to the season. From a development rider point of view absolutely fantastic"
Junior Katy Winton - another Olympic Development Programme member - had a similarly encouraging ride; after an opening-lap crash she chased back from dead last and three minutes down on the pack, to finish 28th.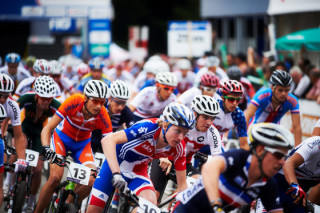 FACING TOUGH TIMES
But if development prospects were strong, performances in the senior races didn't follow suit - something Dixon will be looking to address over the off season.
"It was a tough day for the senior riders if I'm honest, Lee Craigie's first World Championships - a senior rider, but almost development. 53rd with a big crash, but a good start into the top thirty, for me she seemed to hold fortieth position before the crash. I think Lee has to learn to ride on the limit and deliver the lines on the descents without error. But she's finished top sixty in her first World Champs, UCI points scored, job done. The main thing for me is that she is learning, she's ridden the European Championships, World Championships, taken herself to a few World Cups; it's a massive learning curve. I think she is enjoying what she does, enjoys learning and hopefully can have a good winter and progress.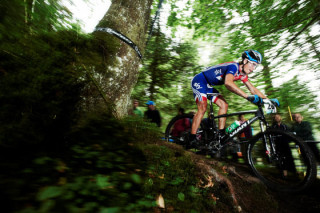 "Liam had tough day out today, not his day basically. He placed in the top fifty after a 26th grid on a tough circuit to move up on, but never felt particularly good, never really got going, then punctured, punctured again and called it a day. He was looking for a lot more but it wasn't to be on that one."
Complete reports from every day of competition at the UCI Mountain Bike World Championships can be found here.