Road To 2012
Phil Dixon: "Today Was Good For British Mountain Biking"
Homepage: Road To 2012 | British Cycling's Performance Programs Explained
Team GB Mountain Bike Roster | Join Team GB
Mountain Biking: Olympic Qualification Explained | UCI National Rankings
---
Phil Dixon, British Cycling's Olympic Mountain Bike Coach has described day two of the UCI Mountain Bike World Championships as "good for British mountain biking" following a second consecutive under-23 World Championship cross country medal for Annie Last and a top-five performance by junior rider Grant Ferguson.
Prior to Annie Last the only British woman to stand on a World Championship cross country podium was Nicole Cooke as a junior winning bronze in 2000 and gold in 2001, Last's back to back silver medals matching that historic moment. And Ferguson's ride was no less significant, the first British junior in the top five since Dave Fletcher in 2007.
Summarising the most successful day in British cross country racing since Oli Beckingsale and Liam Killeen scored silver and gold in the 2006 Commonwealth Games, Dixon hailed the riders - both a product of British Cycling's Olympic Development Programme - and was excited for the days to come.
"These two results are great for British mountain biking. In Grant and Annie, we have two young riders (17 and 20 respectively) who are stepping up onto the World stage. I think we are moving forward all the time and we still have more races to come.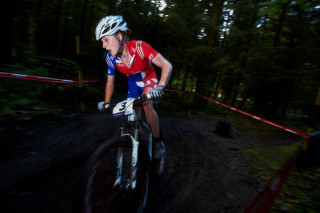 "Annie has proved this season that she has moved on again, today she took the race to Julie, she was too strong and congratulations to her. Annie rode to second against, in my opinion, the best female cross country racer in the World - Julie Bresset - who has already won the World Cup overall.
"Grant's ride was brilliant and a finish to his international mountain bike season to be proud of, he rounded the year off well - second in the European Championships and fourth at the World Championships.
"He got a great start and lead the race, but I think there are a lot of things he will learn from today and it will be exciting to watch him progress through the under-23 ranks and beyond.
"Today is great for the camp and bringing home a medal will be a big lift for everyone."