Road To 2012
Annie Last: "My Results Change Nothing For World Championships"
Homepage: Road To 2012 | British Cycling's Performance Programs Explained
Team GB Mountain Bike Roster | Join Team GB
Mountain Biking: Olympic Qualification Explained | UCI National Rankings
---
One race win, a European Championship silver medal and two top-ten World Cup finishes - British Cycling's Annie Last has had a career-defining build up to the mountain bike World Championships. But days away from the year's biggest competition, Last is adamant her string of recent results won't change her approach to racing.
Following four consecutive races and four season-best results, Annie Last starts the week of the World Championships like any other; by relaxing. It's a routine she knows works and one highlighted following her first-ever top ten finish in the elite women's World Cup.
"After sixth in Nove Mesto, and with another World Cup the week after, it was tempting to put pressure on myself to repeat that result;" the statement made easier by the fact that the 20-year-old from Derbyshire spoke after finishing tenth in Val di Sole.
But despite such results, Last maintains recording her best performances at the most important stage of the season changes nothing for the under-23 World Championships.
"Regardless of my achievements in the past weeks, the World Championship is still the same race. I know what form I had last year, when finished second and I know what form I have this year and it's still a bike race, anything can happen. I feel I have moved on a lot since last year as a bike rider and an athlete but I can't do anything different for this race."

WORLD CUP PERFORMANCES
Following a not-unexpected silver medal at the under-23 European Championships, Last's most significant result as a full time mountain biker came as she rode in the top ten and fought for the podium at an elite World Cup for the first time.
In Nove Mesto Last struck on a combination she had been seeking for two years - a good start, an open road and the legs to back it up - a formula difficult to produce on a World Cup startline, a scene of complete chaos, where form and preparation doesn't matter.
"At a World Cup, you can be the best starter out there, but if you're not on the front two rows of the grid the outcome is a bit out of your hands. You have to try for a great start, but if the riders ahead block your way or crash then you have to do the best you can to adapt to the situation and move on.
"I've always tried to get a good start but it doesn't always work like that. At Dalby I got a good start, but there was a crash which held me up a bit - one of those can see you go from the top fifteen into the forties or worse. Whereas in Offenburg I had a great start with no problems, but I wasn't going so well and it was for naught really.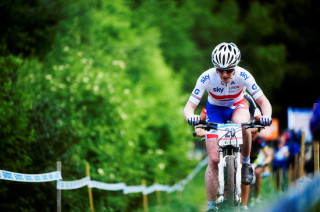 "But in Nove Mesto, the road just opened up ahead of me and I decided to put my foot down! On the opening loop, I could almost choose the position I wanted to be in before the first climb and into the singletrack. I was riding well and the track helped - it was good for overtaking and in most places there were two or three lines."
With the race starting to take shape, Last was already moving comfortably between the top five and ten riders, while others suffered a fast opening pace. But riding in the lead group was not something Last was intimidated by, instead recalling a race where she focussed on the essentials of riding, from the next section of track coming up to gear selection. Only after the crossing the line was there time for the enormity of the result to sink in - the last time a British woman had hit the top ten in the World Cup was 2002, when Annie was racing the Notts and Derby cyclocross league.
"When I finished I was very happy, I saw I was in the top ten. I knew before the race I was going to race well and I felt good. I had ridden well at the European Championships and in the Pro Sprint, and in the week I felt good in training."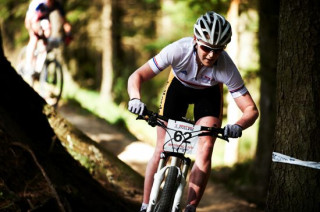 HISTORY
"I wasn't aware of the last Brit rider to be in the top ten, but I now know the history a bit more; I think I can be forgiven as I was only eleven at the time and only raced bikes for the goodie bag you got for finishing! I never imagined I would be racing the World Cup back then. Even three years ago, when I raced the World Championships as a Junior I was hoping one day I could be in the top ten in the world, I'd like that to happen, but I never thought I could achieve it in three years.
"However in 2008 I was still in school, I hadn't sat down and decided what I wanted to do and how I would achieve it. That and in Juniors it is a different race. Moving into the World Cups and the elite category at the end of 2009 I could see where I was and what I needed to do and when I finished school later that year, then I could make big steps forward in results."
Last's biggest test however, would come one week on from achieving her dream result, with the final round of the World Cup and all attention turning to the British Champion. It was at this stage Last's ability to relax and rationalise the situation proved essential.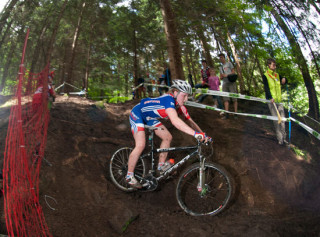 AMBITION
"Going into Val di Sole I knew if I put myself to the front I knew I could race there again, but at the World level the top riders are all going at the same speed as each other. The things that change are the courses and the form of the riders and there's nothing I can do about that. So while it was tempting to put pressure on myself, I prepared in the same way as any other World Cup, by switching off after Nove Mesto, resting and then training and racing again."
The approach clearly worked as Last achieved her first ambition of getting a good start, immediately holding a top three position from the line and with several opportunities to lead the race.
"I didn't want to lead the race to early though, it would have sent me over my limit and damaged my race," Annie quipped, while clearly ambitious that one day she could take the lead without such reservations. But at present a second top ten finish in Val di Sole was enough to satisfy Last's hopes of the 2011 World Cup season.
"Nove Mesto gave me great confidence that I could ride in the top ten and I had the form to achieve that" Last smiled, "at Val di Sole, it was nice to prove it wasn't a fluke."
"The two races gave me number based evidence of my training and looking to the future I'm hopeful of getting on a World Cup podium at some point."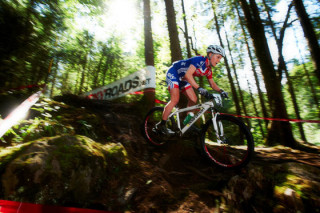 And Last's latest result, winning the Muttenz Swiss Cup, achieved five days out from the under-23 World Championships, was no less significant than that, beating 2008 Olympic Champion Sabine Spitz - something which she puts down to her environment provided by the British Cycling Olympic Academy.
"I have a great team around me which really helps. I am away from home for long periods of time, but I'm with people I can race with, train with, check out courses and discuss things with. And most importantly have fun and enjoy the experience with."
Annie Last races on Thursday for the under-23 women's cross country World Championship.