| | | | | | | | |
| --- | --- | --- | --- | --- | --- | --- | --- |
| | Follow britishcycling.org.uk on | | | | | | |

Schwalbe British 4X Series Round 4
Sat, 16th Jul 2011 - Venue: Harthill
Report & Images: Andy Whitehouse
Link: Report: 4-Cross National Championships, Harthill 17 July 2011
Scott Roberts (Team Identiti) took his first Pro-Elite win today (Saturday) at Hale Superbole, Harthill in round four of the Schwalbe British 4X series. Torrential rain in the early hours had made the technical course heavy going but just as the first practice session of the day started the sun broke through to dry the track and ensure a full days racing. No one was taking many chances in the moto qualifiers and riders were doing just enough to secure points to go through to the semi-finals. In fact with the 4X Nationals competition being run the following day the hard work was put to one side in readiness for the big event.
1. Scott Roberts Team Identiti
2. Martin Ogden Bradford Bandits
3. Pat Cambell-Jenner Team Identiti
4. Mark Millward Swinnerton Cycles
5. Tom Dowie Team Identiti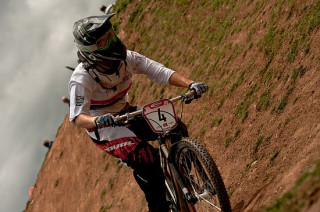 In the Women's event national champion, Katy Curd (Rose Bikes), took the top step on the podium, taking an emphatic win from second place Suzanne Lacey (Five Two Race Team) and Team Naked Racing's Nichola Anderson. On her performance the striped jersey should be heading back to Whiltshire on Sunday evening.
1. Katy Curd Rose Bikes
2. Suzanne Lacey Five Two Race Team
3. Nichola Anderson Team Naked Racing
4. Jessica Greaves Five Two Race Team
5. Cara Murrey Team Naked Racing
IMAGE GALLERY
1
4
Curd Katy
44.84
2
2
Anderson Nichola
53.23
3
1
Lacy Suzanne
50.31
4
3
Murray Cara
53.40

Small final
5
172
Sands Esther
59.52
6
216
Greaves Jessica
51.89