---
What do you do when the start of road season is only a couple of weeks away and the weather is cold? Sit at home and watch your hero's on the TV and dream about winning, or get out there with fellow club members putting in the hard work to try and make it happen. For the older members of Lancaster Go-Ride Club, Salt Ayre Cog Set it's definitely the latter.
On a cold, but thankfully not frosty weekend, 15 young riders got ready for the club's inaugural Road Training camp. Based at a local hostel in the South Lake district, the weekend was a mix of testing rides on the country lanes and educational workshops to get riders ready for the forthcoming race season.
Ably assisted by coaches and volunteer ride leaders from the club, the group assembled on Saturday morning and were divided into groups with each doing a slightly varying route depending on ability but all meeting up for the obligatory 'cake stop' before returning back to the hostel. Then it was bike cleaning, showers and a snack before the first of the presentations by North West Talent Coach, Tim Buckle.
Tim explained how important it was for developing youth racers to have a mix of sessions, with club runs and skills and not spending all winter on the turbo trainer.
The group was joined for the evening meal by two professional riders from the IG Sigma Sport team, Matt Cronshaw and Ryan Mullen. The pair answered questions on the life of a pro bike racer and their experiences as a youth rider. They then left to get an early night as they were racing next day.
The final workshop of the evening was by Graham Baldwin from UCLan on nutrition and the effects of exercise and training of the body.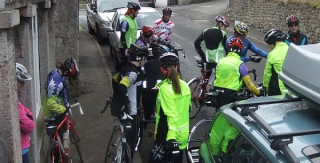 After a good breakfast on Sunday morning the riders were greeted by a few snow flurries as they set off for the final ride towards Kirby Lonsdale. There were a few tired legs after the previous days exertions but all managed to get back to the hostel for some warm food and a debrief before heading home.
Cog Set Head Coach, Paul Andrews, who organised the weekend said it was a resounding success.
He said: "The riders were able to put into practice skills they had learn at club sessions on the circuit at Lancaster such as group riding and gear selection. It was also a great opportunity to bring together a group of young riders who want to help each other become the best they can'
The club are already planning the next training camp.
Salt Ayre Cog Set meet at the closed road circuit at Salt Ayre Leisure Centre.
For more details see www.cogset.org.uk
Club sessions start 30/3/13 email cogset@hotmail.co.uk
---