---
As the interest in cycling continues to increase, this year's Go-Ride Conferences will look to build on the boom of 2012 and provide support and guidance to clubs looking to cope with the boost in numbers.
As always, the events are free for Go-Ride club volunteers to attend, and with nearly 200 having signed up already, this year's Go-Ride Conferences look like being as popular as ever.

With the start of conferences less than six weeks away, the Go-Ride team are working to ensure the content remains relevant and valuable to club volunteers, with a focus on club management procedures and rider progression providing a theme for the day according to Development Manager for Club and Volunteers, Andrew Chaston.
He said: "After the incredible success of 2012, we feel that 2013 provides Go-Ride clubs with the opportunity to take stock and evaluate their club structures in the face of increasing demand and we are looking forward to helping clubs work through this process.
"As always, there will be plenty of opportunities to network and share ideas, while we also have a few new initiatives to introduce to clubs so it should hopefully be a positive and engaging atmosphere for us all.
"We are busy finalising plans now, but we are already excited by the number of volunteers who have signed up to attend and are looking forward to delivering on the day."
If you haven't yet let us know you're coming, please download and the online invitation and return it via email to: go-ride@britishcycling.org.uk
---
Held in five superb venues throughout the country in March, the Conferences are split in to five optional areas to attend and in this article; we are going to focus on the workshop specific to Club Welfare Officers.
Time to Listen Workshop
As an integral member of your club we want to support all Go-Ride Club Welfare Officers in ensuring that new and experienced cyclists have a positive experience within our sport.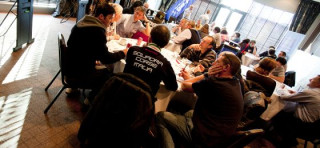 In order to do this we are holding Time to Listen Workshops at each of the Go-Ride conferences. The course, developed by the NSPCC's Child Protection in Sport Unit, is the next step for a Club Welfare Officer (CWO)/Club Deputy Welfare Officer (CDWO). In order to attend, CWO's must have already attended a Safeguarding and Protecting Children course or equivalent, as the Time to Listen workshop builds on this. If you have not yet attended a Safeguarding and Protecting Children workshop, there may still be time with a number of courses held around the country on a regular basis, a list of which can be found here.
How does this benefit Club Welfare Officers?
This interactive course is delivered by a cycling-specific tutor and aims to ensure that CWO's have the best training possible to implement child protection practices in Go-Ride clubs.
The workshop will cover the following topics:
— Developing an "aware" club
— Involving children, young people and parents
— Core legislation, government guidance, the national framework for safeguarding children and young people
— Roles and responsibilities of relevant organisations and designated persons within these organisations
— Developing confidence in applying the designated role and promoting best practice in the club
— Provide a chance to discuss their experiences with fellow Welfare Officers.
---
For further information:
Phone: 0161 274 2070
Email: go-ride@britishcycling.org.uk