---
It was typical that on the very week London was being prepared for drought orders, we managed to have the wettest Go-Ride weekend of the year! Still, some 44 riders braved the wet and windy conditions and produced an excellent morning's racing at Crystal Palace, providing us with a great display of their riding skills in really tricky conditions.
The first casualty of the weather was the Hill Climb. The rain had made the hairpins bends dangerous, so we replaced it with a simpler time trial, with a more gradual climb and no sharp corners. Not perhaps as exciting as the zig-zag climb but still an interesting and testing course.
For the Under 8s it was quite a challenge, but we had some excellent rides and everyone made it to the top. Sannah Zaman of Bigfoot continued her great form setting the fastest time of 48 seconds closely followed by Lilly Meers with 52.8. Harry Wood produced his best ride of the season clinching the third podium spot with 54.4.
In the Under 10s, George Harding of Penge CC cruised to the top spot in 43.2 seconds, two and a half seconds clear of Bigfoot's Jack Harradine in 45.5, with Joseph Wilson less than a second behind in 46.3. Unfortunately for Luke Cornelius (who was on a flier) his front wheel slipped as he was approaching the finishing line, bringing him down on his side. He bravely got up and pushed his bike over the line, but was too sore to compete in the later circuit races. Henry Davies of Bigfoot rode strongly for fourth place in 47.8.
In the Under 12s, Bigfoot's Robert Mills produced a storming ride to win in 38 seconds, with Irfan Zaman continuing his excellent performances this year to finish second in 40 seconds, and Gabriel Roberts coming third.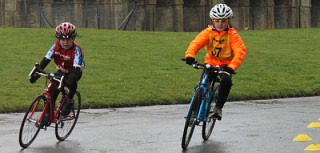 The numbers were a bit thin for the years U14 and U16, but those that did ride were excellent. Fraser Spooncer scorched up the climb to win in 33s and Georgina Williamsshowed her continuing improvement to post an excellent ride of 39s. In the U.16s Michael Chambers rode well to post 38s and Danielle Craig produced a nippy 44s.
With the rain getting worse, and with riders eating hotdogs and sheltering under the arches, we quickly got the circuit races going. Conditions were wet and horrible with puddles of standing water and a cold breeze. Riders received strict instructions to take it easy on the corners, but everyone belted off as if they'd been born and raised in Belgium!
The Under 8s had two laps of the oval circuit and Sannah Zaman powered away to open up a clear lead on lap one, chased by Henry Harding, Lilly Meers and Camron Sergant. Henry began closing the gap but couldn't quite make it before the finish, with Camron coming through for third and Lilly close behind in fourth.
The under 10s race was a great one to watch. Jack Harradine blasted around the first corner with series leader George Harding in hot pursuit. George took the lead on lap two and led into the penultimate corner on lap 3, but Jack jumped inside and a took a slight gap heading into the back straight. George closed it down, but leading into the corner proved crucial and Jack held on for a close win. Behind Kristian Malcom finished an excellent 3rd, with Joseph Wilson 4th.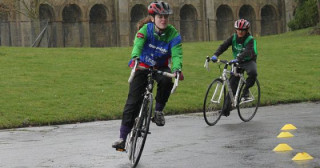 The under 12s, 14s and 16s were all grouped together, and after a slightly more cautious first corner than in the previous races Fraser Spooncer took over the front spot and seemed set for the win but on the penultimate lap Michael Chambers came from the bunch with a late charge to take the lead. Again leading into the last corner proved crucial and Michael was able to hold off Fraser's last-gasp challenge. Michael won the under 16s classification, followed by Fraser winning the under 14s ahead of Georgina Williams. The under 12s group was a closer affair with a Bigfoot 1, 2, 3 of Irfan Zaman, Robert Mills and Alexander Bertioli, with Penge CC's Jordan d'Souza in a season's best 4th.
With just one round left in the series there still a lot to play for in the overall standings:
---
U8: Providing she rides it looks like Sannah Zaman has the 1st position all wrapped up, however the fight for second is far from over with Lilly Meers and Henry Harding separated by only 4 points.
U10: It's official - George Harding has an overall lead of more than 50 points so can't be caught. The fight for 2nd and 3rd is a five way battle between Joseph Wilson, Luke Cornelius, Milly Shemmings and Jack Harradine, who are all separated by only 8 points.
U12: The fight for the top three is a tight contest between Irfan Zaman, Gabriel Roberts and Robert Mills, with all three separated by only 7 points.
U14: Fraser Spooncer has this one sewn up, with Georgina Williams looking comfortable for 2nd place.
U16: As the only consistent entry in this age group Michael Chambers is already the champion. However he has ridden well during the series and fully deserves top spot.
---
Check out The Hub's Facebook page for more photos and Go-Ride updates. The more 'Likes' we get the better!
The Hub is British Cycling's exciting new membership package for Under 16s. To find out more, click here!