Horsham Youth Cycling Club held their first Mountain Bike Race of the season on the final weekend of November at an exciting new venue based at Middle Hill Sea Cadet Centre, Colgate.
Club members and parents had ensured that a testing track was prepared through undulating woodland adding in a few Berms and small jumps to ensure it was a challenging course.
In total, six Go-Ride clubs were represented with riders coming from host club Horsham Youth Cycling Club, Dynamic Adventures, Redhill Raiders, VC Jubilee, Preston Park Youth and Wigmore CC. There were also several local riders looking to join their first club who took part which was encouraging to see.
Events
Each of the riders took part in four races which began with a highly competitive age-related sprint event on the short course Dirt Crit to get everybody nicely warmed up. This provided an excellent opportunity for parents and supporters to cheer the children on in an exciting atmosphere.
This was followed by longer Scratch races on the large woodland circuit which provided a greater challenge to the riders' bike handling skills. The format allowed time for riders to recuperate before the endurance based races of the day took place over several laps of the Middle Hill Circuit depending upon their age category.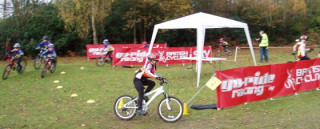 Riders were quick to realise that this race was not about all out speed but maintaining their effort over a longer period and this helped produce close racing, notably in the U14's where the race order changed during the course of the race.
After a refreshment break, riders gathered for the last race, which was a team based event and brought the riders from the different age groups together to ride as part of a composite team. This worked really well and provided the competitors a chance to cheer riders from other clubs who were now on their own team. Riders were quite animated in urging their team mates on and this event successfully provided some closely fought battles on the larger circuit.
A prize presentation finished off the racing with medals provide by the host club and Go-Ride Racing Certificates and Drinks bottles supplied by British Cycling.
A big thank you to the many volunteers from Horsham YCC who cleared and built the track, marshalled, helped keep time and score as well as provided refreshments. Thank you also to Sally Page for her assistance on the day and for encouraging the many VCJ members and their parents to attend.
For full result listings go to http://www.hycc.co.uk/race.html
---
Check out The Hub's new Facebook page for more photos and Go-Ride updates. The more 'Likes' we get the better!
The Hub is British Cycling's exciting new membership package for Under 16s. To find out more, click here!