Welland Valley Cycling Club's latest Go Ride Racing event proved a massive hit with 62 keen young racers contesting two events; The Misterton Blast and The Misterton Trickle.
The course at Misterton Hall near Lutterworth, was designed to test the range of bike handling skills on the varied terrain of fast shale pathways, tarmac roadways, dry dusty woodlands and strength sapping meadowland.
The Go-Ride Racing event was staged after the Welland Valley Whizz Kids, the junior section of the promoting club, had completed a number of coaching sessions looking at the skills involved in cyclo-cross and with a strong emphasis on 'Fun' the intrepid racers were briefed and given tips on how to handle each event. The riders then set off to explore the track.
The first event was the Misterton Blast and it was an explosion of energy as the youngsters completed one lap of the track. After a small break the following race was the Misterton Trickle, which was an endurance event requiring the youngsters to let the energy trickle out.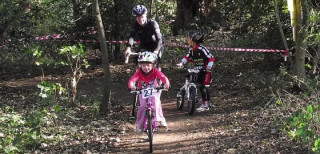 It was pleasing to see a couple of youngsters riding from John Wycliffe School in Lutterworth completing their first event. Their attendance was after the school had finished a number of weeks coaching with East Midlands Go-Ride Coach Dean Hughes. Hinckley Flyers also sent along a strong squad of riders
Many thanks to the following volunteers for assisting on the day Ann, Sophie, Erin, Clair (Hinckley Flyers), Jack, Marco, Louis, James, Steve, Kevin, Bill, Nick, Vic and Mrs Craven for assisting.
There is a great selection of images capturing the afternoons exciting racing below
http://www.flickr.com/photos/63447583@N03/6270045654/in/photostream/
Check out The Hub's new Facebook page for the latest Go-Ride updates. The more 'Likes' we get the better!
The Hub is British Cycling's exciting new membership package for Under 16s. To find out more, click here!