Palmer Park Velo, a Reading-based Go-Ride cycling club, has set its members a major challenge. On Saturday 15th October they will collectively try to cycle 1800km (1100 miles) in three hours to raise money for the Zoë Sarojini Educational Trust. This UK-based charity aims to improve the education of children in South Africa – giving them the opportunity for a brighter future.
The charity is working to relocate an orphanage from a remote location where there is no electricity or running water, to a site that has both as well as being much nearer to schools, hospitals and transport. The new site will be home to 36 vulnerable children.
The idea behind the challenge came from Emily Hogge who spent her gap year living and working in Ingwavuma, a small rural community in South Africa and home to the orphanage. Emily worked as a teacher in a local school, but spent most evenings and weekends entertaining the children at the orphanage. Emily is now studying Biology at Bath University, but as a former member of Palmer Park Velo, she realised that the club could hold the key to raising some of the much-needed money to help build the new orphanage.
Emily said: "I know the work the Zoë Sarojini Educational Trust is doing is changing lives for the better in one of the poorest communities in South Africa and one that has been devastated by the HIV/AIDS epidemic. I also know that Palmer Park Velo is a fantastic club with a very special atmosphere. And I believe the club can do something exceptional for this great cause."
Each member of Palmer Park Velo has set a target distance. For the younger ones – some only four or five years old – this may be 10km, or around 22 laps of the Palmer Park velodrome.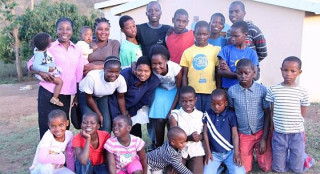 Older members of the club will be aiming to cover as much as 100km or a whopping 217 laps. The idea is that the combined total distance cycled will reach or exceed 1800km, or 50km for each of the 36 children living in the orphanage. It also happens to be the approximate distance between Reading and the African continent – emphasising just how close to home these problems lie.
Palmer Park Velo is hoping to raise £3000 towards the cost of building the new orphanage. If you can help with even a small donation, the members of the club would be thrilled.
Donations can be made via the Just Giving webpage at www.justgiving.com/palmerparkvelo/. Or you can come down to Palmer Park velodrome to cheer the youngsters on between 9am and 12pm, Saturday October 15th.