| | | | | | | | |
| --- | --- | --- | --- | --- | --- | --- | --- |
| | Follow britishcycling.org.uk on | | | | | | |
Go-Ride in the Suffolk Show
Posted: 16th June
Words | John Stockwell
Photographs | David Poacher & Mark Wyer
The Suffolk Show in early June was the venue for another round of British Cycling's Go Ride Racing Programme.
Youngsters from all over Suffolk were able to turn up and have a go at mountain bike racing on the purpose built course, which consisted of dirt mounds, hairpin turns and a boardwalk log run.
After signing on, the riders were given time to practice the course following top tips from British Cycling's Eastern Go Ride Coaches.
After practice it was time to put their new skills to the test by racing for medals, race shirts and prizes in various Go Ride races throughout the two days.
This was the first time most of these youngsters had raced but with volunteers from various local clubs they were in good hands. Over 600 under 16's rode the course, with 120 riders taking part in the competitions.
The races were split into age groups, which provided close and exciting racing and had the crowd cheering; they even had a member of the Royal Family, Princess Anne watching!
All of the competitors received a British Cycling goodie bag and the winners presented with their medals.
More information on Go-Ride Racing can be found here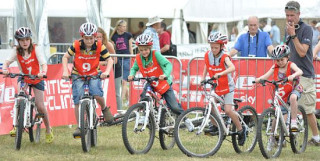 Check out The Hub's new Facebook page for more photos and Go-Ride updates. The more 'Likes' we get the better!
The Hub is British Cycling's exciting new membership package for Under 16s. To find out more, click here!