---
On Sunday 16th June 35 eager young riders gathered at Low North Camp ready for some competitive mountain bike off road racing. Organisers from Richardsons CC laid out two routes at the new venue, using part of the former motocross track. One for the under 10 racers and a longer, more technical and challenging route for the older riders.



With bike and helmet checks and rider practice laps completed the serious racing began. Due to a strong turn out of riders under 6 race officials quickly organised three U6 races. Riders set off peddling like crazy to get through the mud and grass then blast down the tracks with fileys Thomas Eblet trying to pop a wheelie over the finish line!

Under 6
Fraser Taylor took three wins with the ever smiling Olivia Hall in her Richardsons CC top, Abigail Clark, Joe Dingwall and Thomas Eblet chasing.

Under 8
A clean sweep by Yorks Oscar Taylor taking three wins with Hunmanbys Ozzy Stringer, Saul Bateman and Will Butterworth hot on his heels.

Under 10
Joseph Prole was race winner on all three races with Harry Butterworth and Yorks Francis Hirzel tusseling for the second and third places.

Under 12
Guy Drabble from Malton took an early win on race one from Matthew Dingwall with Richardsons CC rider Megan Simpson in third - this was repeated on the next two races. Filey's Megan was holding second place on the last race until an off when Dingwall got in front. Matthew Hutchinson ended up in fourth.

Under 14
Richarsons CC rider Cavan Walker was on top form with three race wins; with Will Turley taking three seconds and Filey rider Bailey Thornton the third places.

Under 16
With only three riders in the under 16 races Helmsley rider Jake Harrison took three wins from Richardsons CC rider Marcus Archer. Jake had to fight for the win after a poor start on the third race but he stuck at it with a determined ride when we reversed the track layout. Ben Adams took three thirds. For full results click here.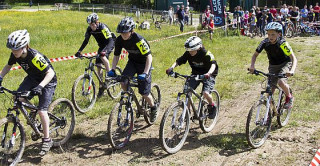 A prize presentation rounded off the event. Once again thanks to our sponsors McDonalds Drive Thru at Scarborough and British Cycling for the medals. The next round is on 7th July at McCains Sports Ground Osgodby near Scarborough - full event details click here.

For more details, contact the organiser Bryden Simpson info@bshygiene.co.uk or call 01723 513773 or visit the club website.
---