---
With the number of Go-Ride registered clubs expanding and demand for formal coach training on the rise, this year the Go-Ride Team have been looking at the development of both the club and the individual riders by exploring the Rider Journey.
Go-Ride has been working closely with British Cycling's Talent Team programme and has mapped out what is actually available to our up and coming competitive cyclists from school coaching right through to post 16 and beyond. By outlining the Rider Journey, club coaches can measure the progress of their riders across the age bands and the available opportunities and recognise where their contribution can best be targeted to ensure that riders can achieve their personal best.
Recognising the opportunities
With an increasing number of opportunities, it is sometimes a challenge for riders to choose the right path. Our club volunteers and volunteer coaches play a key role but it's also important that coaches recognise where their expertise is best delivered.
There is a cross section of coaching expertise and recognising which role is best placed to deliver at each stage of the rider journey can be a challenge. By focusing individual coaching expertise against specific parts of the rider journey, riders can benefit from coaching experts matched to their specific needs.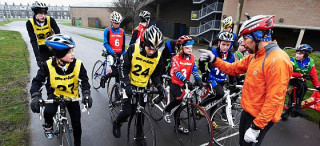 Go-Ride clubs are now beginning to recognise that each coach is an expert in their own field. Our elite riders benefit from the best coaches in their field, but their coaches are no more important to rider development than coaches delivering sessions to our younger riders; they simply deal with a different stage of the rider journey and club coaches must recognise that their role is just as important.
As riders develop and move through the age categories, coaches should consider who is best placed to deal with their particular needs and then pass them on to the next coaching expert. No one coach should coach one rider or a group of riders from the school playground through to post 16 decisions as this invariably creates a wave participation which often flounders as individuals fall away or move on. It's essential that coaches work together and pass riders on from one coaching role to another depending on the needs of the rider.
Throughout the year, the Go-Ride team have been delivering this concept at the Coaching and Competition workshops and taking on board further ideas and suggestions from the regions. The results will be a comprehensive Rider Journey resource that our coaching teams can refer to ensuring that our young riders get the best support possibly available.
This article first appeared in the summer edition of the Go-Ride Magazine.
Download a copy here
---