---
When Beth Crumpton was rejected by British Cycling's Olympic Development Programme (ODP) due to a lack of technical skills, some would have predicted a long and bleak winter in 2010. But two years on, Crumpton is attending an ODP camp as an Olympic Academy athlete setting an example to today's juniors.
Fresh from scoring her first world cup top ten as an under-23 and tackling courses which two years ago would have been impassable, Crumpton sympathises with her own journey as a reference point – but warns young athletes unwilling to face their challenges will "never get there."
Speaking from memory, Crumpton only summarises the missed opportunity of joining the ODP, but recalls in detail the time previously impassable trails became fun.
"I love the descents now, it's just mad how much I've changed in two years", recalls the first year Academy athlete, following a skills session alongside ODP riders in Sheffield.
"When I got declined from ODP obviously it was a down moment but you need to turn that negative to a positive – there's something to do here – and you can go and prove people wrong. That's a personal opinion of mine, to see the look on someone's face when you prove them wrong.
"It's good for personal confidence as well. Once you do improve, you break through it, if you work at it there will be good results at the end. If you want it you'll do it and if you don't want it you'll be on the back foot and suffer and never get there. You have to do it now if you want it."
A string of Talent Team camps through winter provided the opportunity for Crumpton to improve her technical skills in a safe environment, until she could confidently ride Worry Gill at Dalby Forest and the Atherton's downhill trails in Llandegla. Selection for the 2011 world championships followed and as a first year junior the task of riding a lap of the eras most technically challenging cross country course followed.
However, the first feature on track would remain the final one completed. A six-foot drop-off - unique at the time but now commonplace at most international events – was impossible until the day before the race, but once ridden had an immeasurable psychological effect.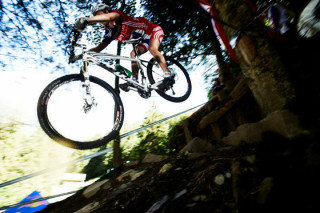 Champery 2011 - the moment Crumpton first rode the drop off
"When I rode it I thought; 'I can do anything now!'" Crumpton's exclamation now matching her reaction that day.
"That was a big old drop! It was such a big boost of confidence when I went off that. I was just buzzing for ages then. It's that moment when you just shake for a little bit; like, did I do that? And then you get told you have to go back up and do it again, just to make sure it wasn't a fluke."
After finishing 33rd in her rookie year and joining the ODP in winter 2011, Crumpton was inducted to the Academy way of life in November 2012.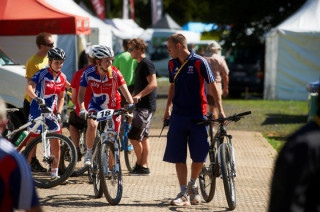 Crumpton readies to race the 2011 world championships as a first year junior.
Her first task was moving in to Annie Last's dormant flat. The first British women to qualify and race at the Olympic Games in over a decade –while part of the Academy - had supported Crumpton earlier that year in achieving fifth at her second junior world championships.

November 2012 - Crumpton is acompanied to the English Institute of Sport by British Cycling's Olympic Mountain Bike coach Phil Dixon.
And after finishing eighth under-23 at the second round of the world cup in Nove Mesto, Last was the first to extend her congratulations.
One of her most prominent role models, Last's exploits on and off the bike are attributed to increasing Crumpton's confidence and self-belief.
"I've got a lot of the same people around me that Annie had and it's good to have the role model there that's done it all, it makes me think I can do it too. Annie was the first person I saw at the finish in Nove Mesto, giving me a hug, telling me what a great ride. Just to have that, or to chat, to have someone not too much older, to say I want to try and get to where you are, to have a role model that bit in front of you. It does give me the confidence and self belief. In the past I haven't had the belief in myself when now there's no reason why not."
In the environment of the latest ODP camp it's role reversal for Beth, who now sets the example for juniors who are challenged daily to adopt the lifestyle required for acceptance to the Olympic Academy Programme.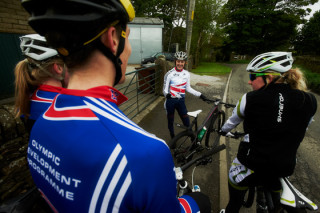 May 2013 - Crumpton chats to the latest ODP athletes mid road ride
Beth describes her Academy experience to date as "everything and better than I imagined."
"The training is good, mountain biking with Kenta Gallagher and Grant Ferguson has bought my skills on again. Operating in the flats is like a massive training camp with extras like the gym and the English Institute of Sport providing training environments I had never experienced before. The load increased but along with it everyone has been really helpful and I settled in naturally.
"Having the opportunity to race the world cups means I now know where I'm at in the under-23 field and I can work toward where I want to finish as a personal goal, while still riding for experience. I'm ticking things off my list, I have my top 15 and top ten, next maybe can be in the top ten consistently and break into that top five. Ultimately I want a race where I get everything right."
Beth's first opportunity to realise that goal comes on June 15 at round three of the UCI Mountain Bike World Cup in Val di Sole, Italy.