2012 UCI Mountain Bike World Championships
Cross country - U23 men, women; junior women
---
A battling Annie Last finished fourth in under-23 cross country competition, while Bethany Crumpton claimed fifth in the junior race in Saalfelden, Austria.
Last was bidding to become only the second British mountain bike rider to win a rainbow jersey in the cross country discipline and started favourite, but an untimely mechanical problem cost her at least a medal - if not the race.
HOW THE RACE UNFOLDED
Leading the start loop, Last submitted eight seconds to Jolanda Neff (Switzerland) on the opening two laps, before closing the gap on lap three.
However, a mechanical problem forced an unscheduled stop in the pits, cost Last the race lead and 40 seconds.
Rejoining in second place, Last chased the gap down to 26 seconds, but entering the final lap could not keep pace and lost further time to Neff.
Worse was to come, when the two-time under-23 world championship silver medallist was caught by Yana Belomoyna (Ukraine) and Paula Goryka (Poland), dropping the British Cycling Olympic Academy athlete into fourth place by the finish.
Last - who became the first British woman to qualify for the Olympic Games mountain bike race in over a decade - has a second chance at a rainbow jersey on Sunday in the cross country eliminator.
JUNIOR WOMEN
Bethany Crumpton claimed the best result of her career, finishing fifth in the junior event.The British Cycling Olympic Development Programme athlete competed in the age category for the final time and led the race through the start loop.
As the race found its rhythm, Crumpton dropped to fifth and raced solo for the duration, finishing three minutes 51 seconds down on winner Andrea Waldis (Austria).
Becky Preece and Alice Barnes made their world championships debuts, finishing 28th and 34th respectively.
UNDER 23 MEN
In the under-23 men's race British Cycling Olympic Academy athlete Grant Ferguson posted the best result of the team, in his first year in the category.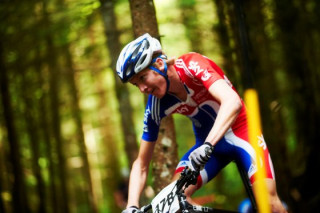 The fourth-place finisher in last year's junior world championships went from 85th on the grid to complete the start loop in 45th place, slowly moving through the field in the remainder of the race to finish 32nd, seven minutes 35 seconds down on race winner Ondrej Cink (Czech Republic).
Seb Batchelor started in 68th and moved to 36th on the opening loop, eventually finishing 42nd nine minutes and 37 seconds from first.
Kenta Gallagher rode most of the race in the top forty, but lost time in the closing lap and a half, finishing 59th. Steve James was withdrawn with two laps remaining under the 80% rule.
Results
Under-23 women's cross country
1 NEFF Jolanda SWITZERLAND 1:23:57
2 BELOMOYNA Yana UKRAINE +00:18
3 GORYCKA Paula POLAND +00:27
4 LAST Annie GREAT BRITAIN +00:47
5 ZUR Monika POLAND +01:54
Under-23 men's cross country
1 CINK Ondrej CZECH REPUBLIC 1:19:40
2 VAN DER HEIJDEN Michiel NETHERLANDS +00:14
3 BRAIDOT Daniele ITALY +00:48
4 GEHBAUER Alexander AUSTRIA +01:34
5 BRAIDOT Luca ITALY +02:12
other
32 FERGUSON Grant GREAT BRITAIN +07:35
43 BATCHELOR Sebastian GREAT BRITAIN +09:37
59 GALLAGHER Kenta GREAT BRITAIN +13:17
69 JAMES Steven GREAT BRITAIN -2LAP
Junior women's cross country
1 WALDIS Andrea SWITZERLAND 1:07:29
2 WIEDENROTH Sofia GERMANY +00:30
3 PUTZ Lena GERMANY +01:19
4 CLAUZEL Perrine FRANCE +03:25
5 CRUMPTON Bethany GREAT BRITAIN +03:51
other
28 PREECE Rebecca GREAT BRITAIN +12:10
34 BARNES Alice GREAT BRITAIN +15:41