2012 UCI Cyclo-Cross World Championships
Trackside With Team GB

---
The British Cycling team have arrived in the heartland of cyclo-cross, where school children know their Styby from their Sven Vanthourenhout and the dunes of Koksijde are a bigger attraction than Blackpool Pier in its prime. With 60,000 fans expected to overflow the biggest event on the world calendar on Sunday, all of the big players are on site and are ready to race.
Discounting the withdrawals of Gabriella Day and Jody Crawforth – neither of which will compete on Sunday due to ill health – the British Cycling Team have all trained on course and continue to prepare for a race that has remained top of the agenda since the season opened in September.
Reconnaissance of the course for most riders began in late November, when Koksijde hosted a round of the UCI World Cup and continued last week at the final round of the season in Hoogerheide.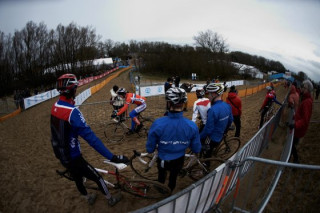 Such preparations have resulted in minimal course training being required – a crucial element for a good performance on race day. A succession of heavy sand pits and constant elevation changes requires maximum commitment to clear a single straight and having already learned the lap, track time is kept to a minimum.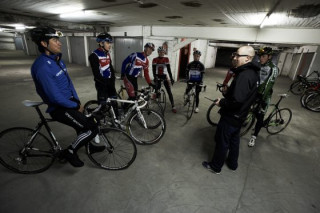 A combination of morning road rides, turbo sessions and afternoon sectioning of the track itself has been the pattern inside camp.
For the juniors and under-23 athletes, that has meant riding to the course, adjusting to the latest conditions and learning from their last experience – something that has changed the dynamic of the weekend according to coach Simon Watts.
"I think the race trip earlier this year was invaluable – whether that was having the confidence to get out there onto the course, knowing where to go and knowing the bike setup, or to feel confident in their surroundings. All of this is massive and saves a huge amount of energy for the riders, meaning they can focus on the race.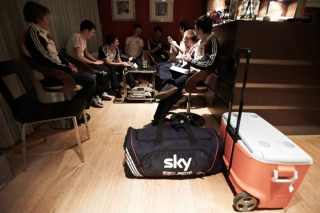 "We have a really good group here that can talk and observe together, rather than just sending individuals out on to a course. We are out here as a team, to help each other. It's a good environment. You could see many of them growing in confidence and achieving more. However, we are fighting a damage limitation exercise to an extent as the riders and courses we are facing tomorrow don't exist in the UK.
"We're up against riders who race the best courses and competition on a day to day basis and have a support network to back it up, we can't come here with the aspiration of winning a title, but that doesn't mean we won't try and get the maximum out of the weekend."
COURSE TRAINING - RIDER REACTION
In terms of track conditions, it is expected little will change before race day, with regular showers, sunny spells and a strong coastal wind as predictable as the exposed northern edge of Europe gets. Although there will be some mud on track, it is not a feature expected to shape the race; that honour will be reserved for the sands of time.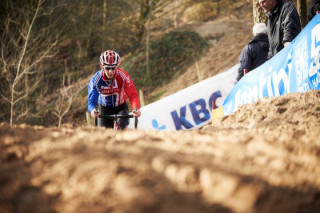 Steve James - "Practice has gone well and the rain has helped to compact the sand. It's pretty different to what we're used to in England and will always take a bit of adapting to, but because we came here before it's just a case of getting used to the wet sand. I've had a few slow bits, but the course is riding well and I'm getting into it now. Riding the sand isn't a problem, but the challenge comes when you're riding it in race circumstances. My tactic is to focus on the start because of this, the main goal is to get into the top thirty and hold on for as long as possible. I'm not looking for the best result on the day – I'm more looking to learn what I'm capable of in the race and if that means a top twenty until dropping a lot of places in the closing stages, I'm happier with that than racing comfortably."
Kenta Gallagher - "It's a good experience and I'm enjoying it. Compared to last year, I've come here in a bit better condition and I'm a bit fresher as I've had an easy week. I'm not a cross rider, so this event is not about the result, it's more about how I race and learning to race differently. I think I will smash through the sand sections, but ride the rest easy tempo. If I think about things more I think it will go to plan. The first mountain bike race of the season is still only six weeks away. I'm feeling much better this year than I did at the same time last year, so I can treat this event as good race conditioning and as something toward the coming season."
Alex Welburn - "I'm finding the course changes every time you ride it, you have to ride each lap differently. I'm going to take the approach of starting hard and pushing to get in a good position. That can't happen straight away though and the first dune and the second sand pit will really set the tone for the race. Unless you are in the first three there, you'll be off and running. I hope to be in the top thirty, I think that is realistic."
Jack Clarkson - "The course is the same as the World Cup – the only difference being the sand is wetter, easier to ride, and the corners cutting up. Coming over earlier this season was definitely worth it, last time I was getting off earlier, now I can ride more, you're not giving away so much time. I wasn't happy after the British Championships, I didn't think I was going well, but I think after Hoogerheide, it was good for the confidence and I think I am going slightly better now."